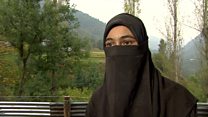 Video
'You never know when the firing will start'
Tension is rising between India and Pakistan in the disputed region of Kashmir, following a deadly attack on an Indian military base earlier this week.
India has accused Pakistan of supporting those behind the attack and has sent more troops to the Line of Control, which divides their armies in Kashmir. Pakistan denies the allegation - its military is on alert.
This has only increased the uncertainty for the villagers living along that frontier. The BBC spoke to Abida about life in the shadow of conflict.
Produced by Shalu Yadav
Filmed and edited by Bhas Solanki
Go to next video: Why you should care about violence in Kashmir