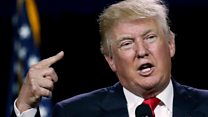 Video
Trump 'not calling for Clinton to be shot' says Republican
Donald Trump was not trying to suggest people could assassinate Hillary Clinton, says Republican donor Shaun McCutcheon.
Mr Trump said: "Hillary wants to abolish, essentially abolish the Second Amendment. By the way, and if she gets to pick her judges, nothing you can do, folks. But the Second Amendment people, maybe there is, I don't know."
Mr McCutcheon, a delegate for Alabama at the Republican convention, tells Today programme presenter Sarah Montague that Mr Trump was saying that even if Mrs Clinton ended the Second Amendment - thus banning guns - gun owners would not get rid of them.
Go to next video: Trump 'is psychologically unbalanced'