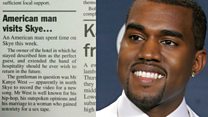 Video
Why newspaper downplayed Kanye West's Skye visit
The man behind Kanye West's page 16 mention in the Isle of Skye local paper says the tongue-in-cheek article has "generated quite a bit of attention".
Kanye West stayed on the remote Isle of Skye recently to shoot his latest video but his visit didn't make the front page in the local paper, instead he ended up with a few short paragraphs on the inside pages.
Journalist Keith MacKenzie decided to write the article for page 16, as he thought it would be "a bit of a laugh" to put Kanye "next to a story about a Kayaker rescuing some sheep".
This clip is originally from 5 live Drive on Tuesday 19 April 2016.