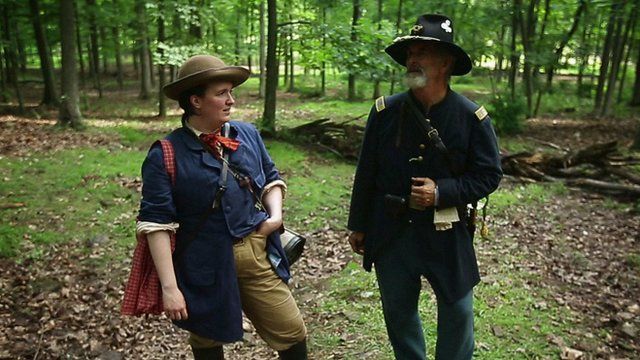 Video
Gettysburg 150 years on: Briton at US civil war battle
This year is the 150th anniversary of the battle of Gettysburg, widely considered the turning point of the US Civil War.
Every year thousands of re-enactors recreate the same battle near the Pennsylvania town - the battlefield itself is now a national park so fields nearby are used instead.
Rachel Egglestone-Evans, who goes by "Rae", travelled from the UK to take part. She says she represents the "hard-core" angle, trying to be as authentic as possible during her time at the event.
Back in England she is the managing director/publisher of Vintage Life Magazine. At Gettysburg she plays the role of an English journalist covering the conflict - she even dresses as a man because all journalists back in 1863 were men.
Produced for the BBC by Anna Bressanin; video by Ilya Shnitser
Go to next video: From 'hoodlum' to ghetto photographer