Article: published on 1 June 2022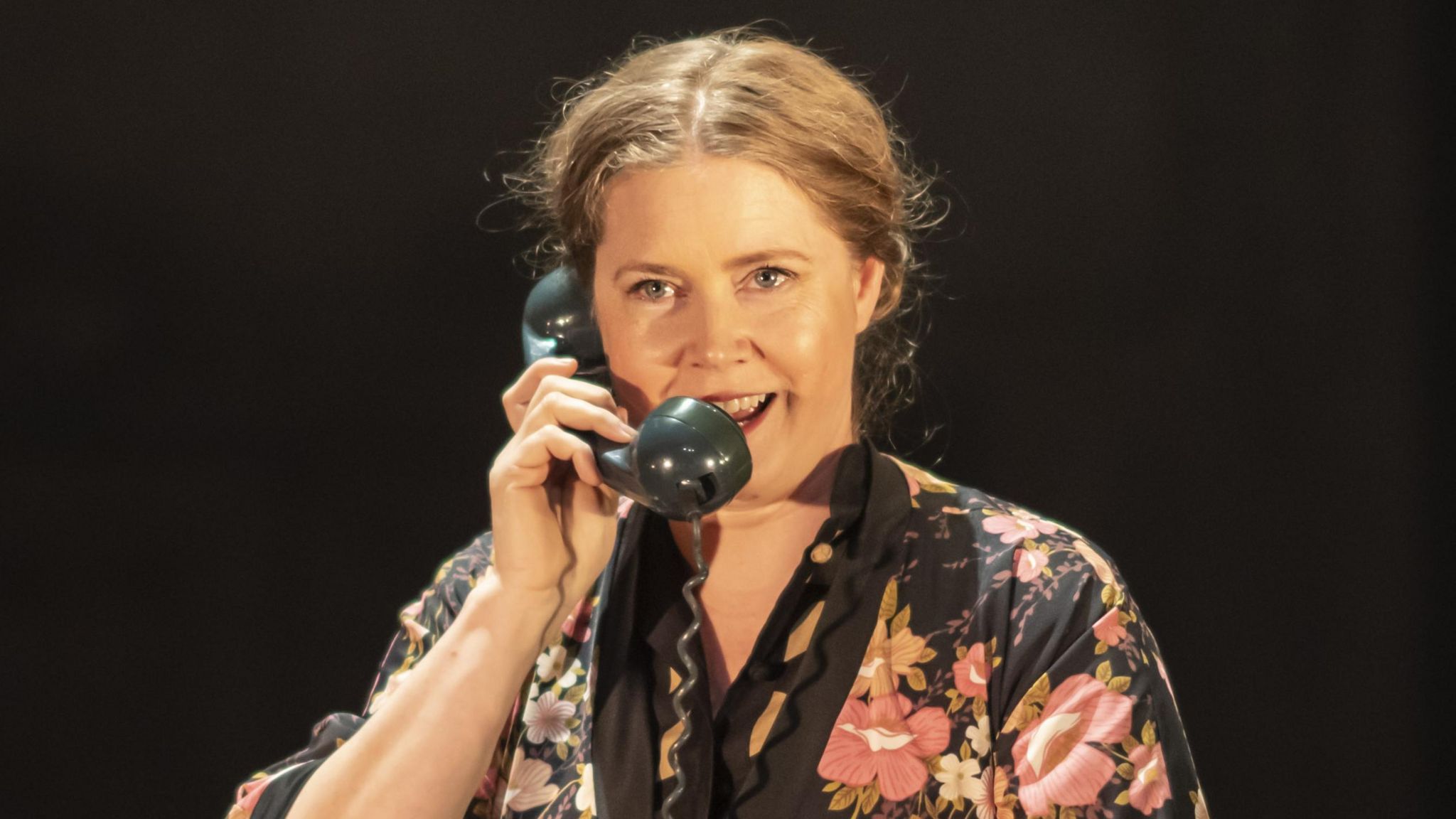 Amy Adams' West End debut gets mixed reviews
At a glance
Hollywood actress Amy Adams has made her debut in London's West End

She is appearing in a new production of 1944 play The Glass Menagerie, written by Tennessee Williams

Most critics gave the show lukewarm reviews, with many awarding it two or three stars

But Adams was praised by some for her "simple and heartbreaking" performance

The show, directed by Jeremy Herrin, is playing at the Duke of York's Theatre in London until 27 August
A new production of the Glass Menagerie starring Amy Adams has received mixed reviews from critics.
The Hollywood actress makes her West End debut in Tennessee Williams' breakthrough 1944 play.
The Telegraph said Adams was "clear, simple, believable, and quietly heart-breaking" in the play.
But others were less enthusiastic, with the Evening Standard describing her performance as "muted and unconvincing".
Adams, who has yet to win an Oscar despite being nominated six times, has previously starred in films such as Arrival, American Hustle and Vice.
Films she has starred in more recently, such as The Woman in the Window, Hillbilly Elegy and Dear Evan Hansen, have been less well-received commercially and critically.
However, after the Glass Menagerie's opening night on Wednesday, some critics said her West End debut finds the actress at the top of her game.
"To be blunt, I loved her performance," wrote The Telegraph's Dominic Cavendish, external. "It's clear, simple, believable, and quietly heart-breaking in its contained vulnerability."
"What Adams catches in her determined radiance and subtle gestures is the female equivalent of Arthur Miller's Willy Loman: someone going through the motion of coping but in dire need of some good news."
But Cavendish was less positive about other aspects of the production, awarding the show three stars. He said the some aspects of the sound and set design were less effective, while some other characters were under-played.
The Glass Menagerie tells the story of single mother Amanda Wingfield, who obsesses over her children's future. She pressures her restless son Tom (who also narrates) to help find a partner for his shy and vulnerable sister Laura.
The new production is directed by Jeremy Herrin, who has previously overseen productions of Wolf Hall, Uncle Vanya, Labour of Love and People, Places and Things.
Clive Davis of The Times also awarded, external The Glass Menagerie three stars, writing: "The casting of the Hollywood luminary Amy Adams... may be the main selling point. Whether the gambit works is another matter.
"All praise to Adams, nevertheless, for taking on a role that has tested many an actress."
Writing about the production more widely, he noted: "Since Williams steered clear of naturalistic stage directions, Herrin and Vicki Mortimer, the set designer, allow themselves free rein.
"Laura's cherished collection of glass animals stands in a sleek case that looks as if it belongs in the foyer of a boutique hotel. Ash J Woodward's video projections add punctuation."
"The details are stylishly assembled," he concluded, "but they fail to carry the evening."
In a two-star review, The Evening Standard's Nick Curtis said, external Adams "makes a muted and unconvincing West End debut", adding that she is "often indistinct, somewhat phony and offstage for a large chunk of the action".
"She's not bad, just unremarkable in a role that strikes a single, clanging note of hysterical gentility throughout."
He continued: "Herrin's version takes place on an almost bare stage ringed - by designer Vicki Mortimer - with arc lights, reel-to-reel tapedecks and chairs, and crowned by a giant video screen on which flickering colours are cast.
"It's intended to evoke Williams's vision of a dream-like setting. Unfortunately, the monolithic and well-lit virtrine which contains Laura's laboriously symbolic menagerie of glass animals, and which dominates the stage, resembles a boutique perfume counter."
Time Out's Andrzej Lukowski described, external the production as a "startlingly warm take on Tennessee Williams's breakthrough play".
In a three-star review, he said: "Amy Adams is a great actor but not a flashy one, an important distinction that's seen her somewhat farcically lose out on each of her six Oscar nominations. It's a quality that continues into her West End debut."
However, Lukowski said, the production as a whole "feels underpowered" compared with "John Tiffany's monumental production of a few years back".
"It's a humane and even beautiful take on a classic play, that tries to do something different simply by treating Williams's characters with the love and affection so often withheld from them," he said.
"In the not unlikely event that you're here to see Hollywood star Amy Adams do some good but not showy offy acting, you're very much covered. But The Glass Menagerie is one of the greatest plays ever written, and this is not its full, devastating potential."
"Herrin's vision results in excellent performances from the cast but a dumbed-down production," wrote Cindy Marcolina in BroadwayWorld., external
"With her name appearing bigger than both title and playwright on the poster, Adams is obviously the top-billed star. However, she is surrounded by finer performances than her own.
"She is a minimalist in her imperiousness and cinematic in her poise, too much so, and ends up stifled by the other's theatrical confidence."
Marcolina also referenced the set design and effects, highlighting the projected images on the hanging backdrop, the "gimmicky" sound design, and the "oversaturated neon lights"
She concluded: "If we strip the piece of its surplus of visual and auditory stimulations and keep only the superb contributions from the actors, this take on Williams's masterpiece would be very close to being a five-star production. Regretfully, it's barely a glassy three."