Lord Botham appointed trade envoy to Australia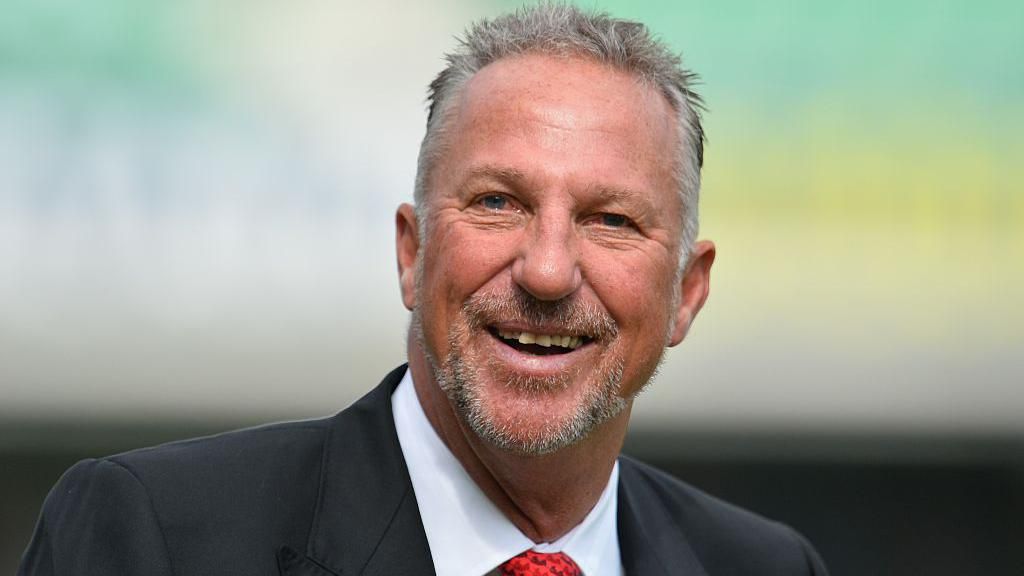 Ian Botham, the former England cricketer known for legendary clashes with Australia, has been appointed UK government trade envoy to the country.
Lord Botham, along with Baroness Hoey and several MPs, have been made trade envoys to boost British business interests around the world.
International trade secretary Liz Truss tweeted, external the former all-rounder would "bat for UK business down under".
Lord Botham reportedly once said "Aussies are big and empty - just like the country", whereas he was affectionately known in the country as Guy the Gorilla.
He is one of 10 new trade envoys.
Baroness Hoey has been appointed to Ghana, while Stephen Timms MP has been assigned to Switzerland and Lichtenstein, and Sir Jeffrey Donaldson MP to Cameroon, in addition to his role as trade envoy to Egypt.
David Mundell MP has been appointed to New Zealand, Mark Eastwood MP to Pakistan, Marco Longhi MP to Brazil and Conor Burns MP to Canada .
Lord Walney has been assigned to Tanzania, while Felicity Buchan MP has been appointed to Iceland and Norway.
Trade envoys are a network of parliamentarians drawn from across the political spectrum, who are appointed by the prime minister. They are unpaid, voluntary roles.
They engage with markets where substantial trade and investment opportunities have been identified by UK government. The government already has envoys in more than 60 countries.
Lord Botham, who played 102 Test matches for England between 1977 and 1992, is an advocate of field sports and a prominent Brexit supporter who was knighted in 2007, in recognition of his services to charity and cricket.
One of his most famous moments on the field came in 1981 when he inspired a sensational defeat of Australia. After retirement, he became a commentator and started his own wine label.
He currently sits as a crossbench - independent - peer in the House of Lords.
The UK and Australia recently agreed a free trade deal. The pact - the first to be built from scratch since the UK left the EU - covers British goods such as cars, Scotch whisky, biscuits and ceramics.
However, some UK farmers have raised concerns they may be undercut on price and standards.
International trade secretary Ms Truss said the trade envoys would play a "key role" in delivering the government's "ambitious global trade agenda".
In 2020-21, trade envoys supported more than £16bn of UK exports, the government said.