Station revamp approved despite 'carbuncle' fears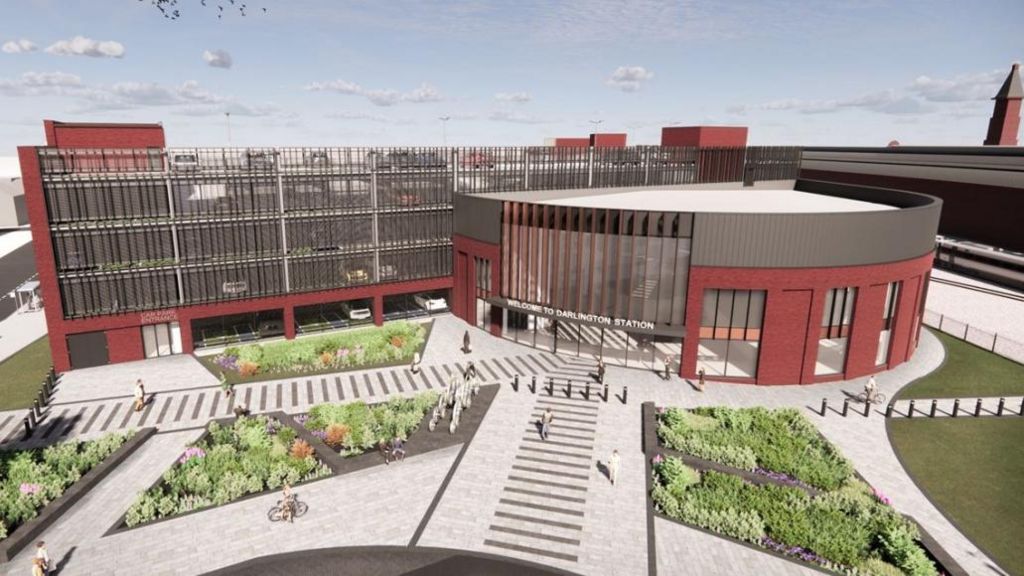 At a glance
Council chiefs approve first phase of £114m development works

The multi-storey car park has been criticised as "ugly"

Project director says English Heritage has been involved with its design

Application will now go to the government for funding
Plans to transform Darlington Station have been given the go-ahead, despite fears that a multi-storey car park could end up a "carbuncle".
The £114m development includes new platforms, tracks, interchange, footbridge, and concourse.
Concerns had been raised about the "brutalist" design of the proposed car park building.
But the project director said English Heritage was involved in integrating "the old Victorian grandeur and new modern design".
Council leaders approved the initial phase and the final business case is to be sent by the Tees Valley Combined Authority to government for full funding, with construction expected to start later this year.
The Local Democracy Reporting Service said Councillor Jonathan Dulston, leader of Darlington Borough Council, told a cabinet meeting: "This project will ... lay the foundations that can enable development of rail services across the Tees Valley and help unlock the current capacity of the east coast mainline.
"It is fitting that this new station will be delivered in time for the bicentenary celebrations in 2025, and help support the successful economic growth we deliver."
Councillor Alan Marshall, cabinet member for the economy, said the project would "help regeneration, jobs and tourism, improve connections and stimulate interest and opportunities for a thriving town".
He added: "First impressions of the place are vital, and the improvements planned at all entrances to the station will create a sense of arrival and reinforce Darlington as a place that is delivering success."
However, Councillor Nigel Boddy raised concerns, saying: "Prince Charles's famous phrase 'monstrous carbuncle on the face of a much-loved and elegant friend' springs to mind.
"Where is the economic case for a multi-storey car park… designed in a brutalist 1960s style which is entirely out of keeping with the architecture of our beautiful, wonderful Victorian station?
"It's an absolute masterpiece and you're proposing to slap a very ugly 1960s-style building on to the side of it."
He also questioned whether the project would be complete on time and on budget: "We're going to invite railway enthusiasts from all over the world to come to this town in 2025.
"How do we know they're not going to be coming into a building site?"
Dave Winstanley, group director of services, said English Heritage was involved in integrating "the old Victorian grandeur and new modern design".
"We've been working with the designer and builder for a number of years now", he said.
"I'm confident the project will be delivered on time and the estimated delivery time is September 2024.
"We will get the funding from government in September subject to a successful business case."