Will my summer holiday flights be cancelled?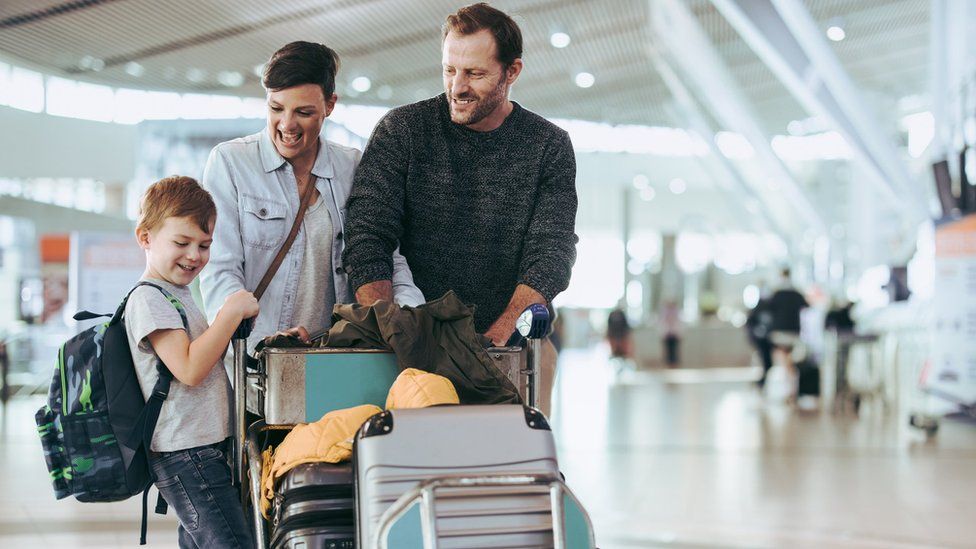 Flight cancellations and airport delays are expected to continue, affecting summer holiday plans for many.
Airlines had already been struggling with staff shortages, and now face further disruption after aviation workers at Heathrow and across Europe voted to strike.
Some operators have begun cancelling flights, to try to prevent a repeat of the chaos seen at airports in recent months.
What are the strikes about?
Strikes are expected from security staff, baggage handlers and airline cabin crew in the UK and a number of European countries.
Ryanair staff are striking across Belgium, France, Italy, Portugal and Spain over poor working conditions and low pay.
Ryanair boss Michael O'Leary dismissed union claims as "complete rubbish".
But in a statement, the company said "negotiations are going well, and we do not expect widespread disruption this summer".
Easyjet workers in Spain argue their working conditions are worse than those of their European colleagues.
The company told the BBC it was "extremely disappointed with this action", as it has made "considerable progress towards a new collective labour agreement".
Those walking out are 700 British Airways (BA) check-in and ground staff who complain that a 10% pay cut imposed during the pandemic remains - while other BA workers have been given a 10% bonus.
But BA dismissed their claims, saying that "after a deeply difficult two years... these colleagues were offered a 10% payment for this year which was rejected".
Which routes will be affected?
The BBC understands that if the Heathrow strikes go ahead, BA - which operates from terminals three and five at the airport - has contingency plans in place, which could include managers dealing with check-ins.
However, customers could still potentially face disruption and possibly some cancellations, in particular on routes with several daily flights.
Ryanair staff are expected to strike from June 24 to 26 June, and 30 June to 2 July.
The airline flies to ten locations in Spain, but it's not clear which routes could be affected.
EasyJet cabin crew in Spain working from Palma, Barcelona and Malaga will strike for nine days in July, over three separate 72-hour periods: 1 to 3 July, 15 to 17 July, and 29 to 31 July.
The company said customers could experience some disruption, but that "at this stage" it planned to operate its full schedule.
Ryanair staff will walk out from June 24 to 26 in Portugal, and Italian staff have timed their strike for 25 June to coincide.
Ryanair staff plan to strike from June 24 to 26, affecting flights to/from Charleroi and Brussels.
This follows the complete walkout of screening staff at Brussels airport on Monday which led to the cancellation of all 232 departing flights.
Ryanair staff based at Toulouse, Marseille and Paris Beauvais airports are planning to strike from June 25 to 26.
Workers at Paris's Charles de Gaulle and Orly airports will strike on 2 July - affecting all flights in and out of both locations.
Why are staff shortages so high?
Covid restrictions in the UK and around the world were hugely challenging for the sector.
Airlines UK, the industry body, said airlines have cut about 30,000 jobs since the start of the pandemic, having employed 74,000 people in 2019.
Airports across Europe are also experiencing shortages, with operators in France reporting at least 4,000 vacancies.
Many airport staff who were laid off after the start of the pandemic have since taken jobs in other sectors.
Airport security staff shortages are a particular problem, as it can take months to get the clearance workers need to operate airside.
Swissport's UK boss, Jude Winstanley, said the company had hired 3,000 people since January, but many of them still didn't have full security clearance, limiting the duties they could carry out.
The government changed the rules at the end of April to allow new staff to receive training while waiting for their final clearance.
Why weren't these problems anticipated?
Demand for travel has grown sharply since the final Covid travel restrictions were lifted.
Unions have accused the government and airlines of failing to properly prepare for the end of lockdown.
Gemma Antrobus from the Association of Independent Tour Operators said: "Getting back to those levels of staffing, of training, is not as quick and as simple as just a flick of a light switch."
The government insists ministers have been working with the industry to avoid delays, and says it provided £8bn of support to the sector during the pandemic.
In comparison, the French government gave 15bn euro (£12.9bn) to its aviation sector in 2020 to offset the impact of Covid.
When will things improve?
If not, they say flights should be pulled as soon as possible, to avoid large-scale, last-minute cancellations.
According to Conservative MP Huw Merriman, chairman of the Transport Select Committee, one of the big issues is that airlines have to use 70% of their airport slots or risk losing them.
In response, the government has announced an amnesty scheme which will let airlines temporarily hand back slots they will struggle to fill this summer, without having to surrender them permanently.
Transport Secretary Grant Shapps said this would "help airlines provide certainty to passengers and ensure the next few months are as smooth as possible".
Airline UK boss Tim Alderslade described the move as "a welcome step that will help build greater resilience into operations this summer".
Please include a contact number if you are willing to speak to a BBC journalist. You can also get in touch in the following ways:
If you are reading this page and can't see the form you will need to visit the mobile version of the BBC website to submit your question or comment or you can email us at HaveYourSay@bbc.co.uk. Please include your name, age and location with any submission.