Imperial measurement review to mark Jubilee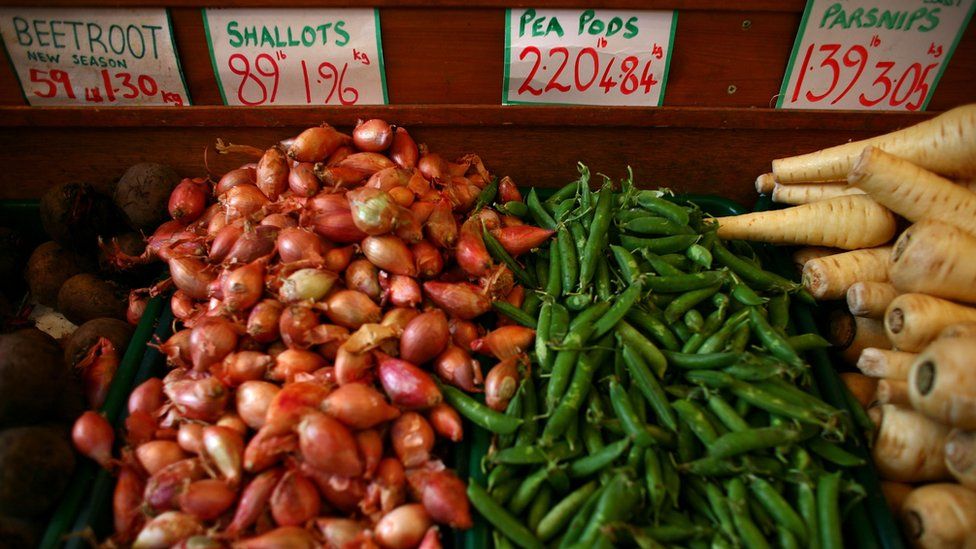 The government will launch a post-Brexit review next week on how and where traders can sell produce using imperial measurements.
Currently they must use metric when selling packaged or loose goods - although Britain's traditional weighing system can be shown alongside.
Labour MP Angela Eagle said it was a "pathetic" attempt to "weaponise nostalgia".
Under EU rules from 2000 copied over after Brexit, traders can use imperial measurements - such as pounds and ounces - alongside metric, but they cannot be more prominent.
In September, the government said it would review these rules as part of broader plans to reshape UK law after Brexit, and legislate "in due course".
It has confirmed a consultation on potential changes will start next week, to coincide with the Queen's Jubilee weekend, and last for three months.
In 2001, the rules became the focus of debate in the UK following the prosecution of the "metric martyrs" - a group of market traders convicted of selling goods using only imperial measures - although they have not been rigorously enforced since.
The UK copied the law over when it left the EU to smooth its exit, but the review will now look at how, if at all, the regulation should change.
The BBC understands there is not expected to be any move away from metric units.
Northern Ireland Secretary Brandon Lewis told Sky News traders would be "pleased" with the "freedom" to move away from EU rules.
But Conservative MP Alicia Kearns, who recently called on Prime Minister Boris Johnson to resign over Partygate, said "not one" of her constituents had asked for the change.
"This isn't a Brexit freedom. It's a nonsense," she added.
Shadow business secretary Jonathan Reynolds said: "Small businesses can measure the difference a Labour government would make in pounds and pence with our plan to cut taxes for pubs, cafes, and shops.
"The government should get on with tackling the cost of living and cutting costs for businesses. Labour backs British firms and will make Brexit work for them and consumers."
Ahead of the Jubilee, Prime Minister Boris Johnson has also released a statement paying tribute to the Queen and her 70 years of service.
"With the first Platinum Jubilee ever, no monarch has ever served the country so long and, more importantly, no monarch has ever served it so well," he said.
"Providing leadership and wisdom, this remarkable woman has dedicated her life to serving her people and to her beloved Commonwealth."
He added that the Queen's "outstanding service extends far beyond these shores", noting that "she has offered counsel to more than 170 heads of government and has undertaken more than 21,000 official engagements in well over a hundred countries".
"With all that the past 70 years has thrown at us, Her Majesty has led her country from strength to strength under her steady guidance," he said.
"Simply without parallel, she embodies the very idea of what a constitutional monarchy should be."