Which countries are doing the most to tackle energy bills?
By Nicholas Barrett & Daniele Palumbo
BBC News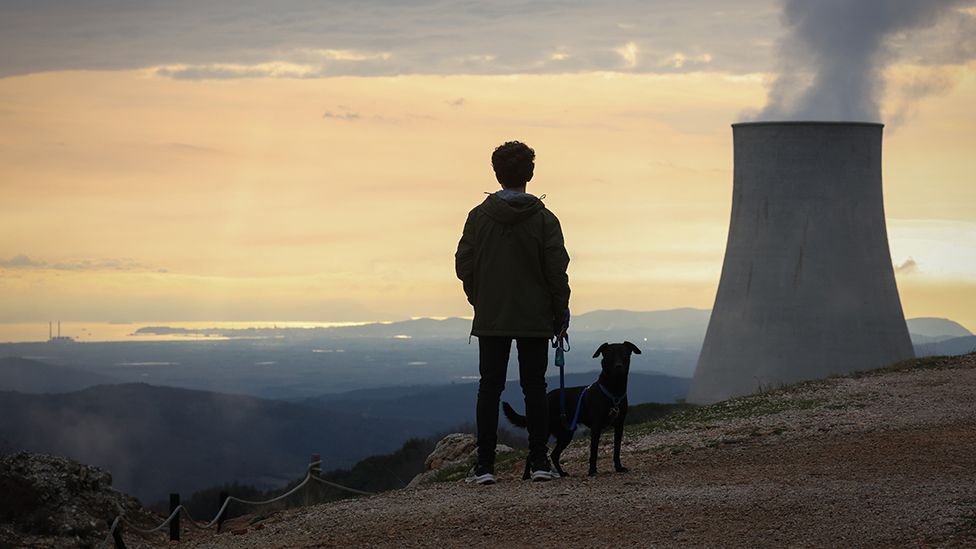 Energy prices have been rising for households across Europe in the past few months - in the UK, the price cap for households rose to £1,971 last month, and is expected to reach £2,800 in October.
The increases are being driven by the common factor of rising energy demands, and worries about gas and oil supplies in the wake of Russia's invasion of Ukraine.
However, different countries are tackling the crisis in very different ways.
Households on means-tested benefits will also get a one-off payment of £650, while pensioner households will receive an extra winter fuel payment of £300. There will also be a one-off disability cost-of-living payment of £150.
These payments will be partly funded by a 25% windfall tax on oil and gas firms' profits, which the government expects to raise £5bn.
The UK government says it is now spending £37bn to help people through the cost of living crisis, "higher or similar to countries like France, Germany, Japan and Italy," according to Chancellor Rishi Sunak.
However, there are some questions about this figure, with the Institute for Fiscal Studies saying that £18bn should be subtracted from that figure to take into account tax increases.
That means that a figure of £19bn will be helping make up for the rise in energy bills.
Italy has announced a €14bn (£12bn) fuel subsidy and investment plan. The plan is to allow families to keep their fuel bills around 2021 levels, and to invest in renewable energy and incentivising household to switch to electric vehicles and renewable sources of energy.
Other measures include a €200 (£169) one-off payment to people earning €35,000 (£29,600) a year or less, and a 20% tax credit for all energy-intensive companies experiencing a 30% rise in prices.
To help pay for these measures taxes are being raised for energy companies whose profits have gone up as a result of the higher fuel prices.
Overall, Italy is expecting to spend about €35bn (£30bn).
Spain has cut VAT on energy bills from 21% to 10%. A special tax on electricity has also been temporarily cut from 7% to 0.5%.
To pay for these tax cuts, Spain introduced a windfall tax on energy companies, which aims to raise €3bn.
In April, the European Commission agreed a price cap for gas in Portugal and Spain - an average of €50 per megawatt-hour.
The price cap will last for one year and aims to halve gas bills for 40% of customers in the two countries.
When combined, Spain's measures are expected to cost about €21bn (£17.8bn).
In January, the French government forced the state-owned energy provider, Électricité de France (EDF), to cap wholesale price rises to 4% for a year, at a cost of €8.4bn (£7bn).
France had already announced a one-off €100 (£84) payment last year to 5.8 million households receiving energy vouchers. Since then, it has also reduced taxes on electricity.
According to Bruegel, a Brussels-based think tank, France is expected to spend €38bn (£32bn) to support people through the cost of living crisis.
German households pay more for electricity than any other country in the EU, and 4.2 million German households will see their gas bills rise by an average 62.3% in 2022 according to reporting by Reuters.
The government has already brought in subsidies for low-income households and is now spending an extra €15bn on fuel subsidies through cutting petrol and diesel taxes, providing people with one-off €300 pay-outs, extra child support payments and public transport discounts.
The total cost for these measures is expected to be about €30bn (£25bn).
The Dutch government has spent €2.7bn cutting taxes on the energy used by businesses and households, and it plans to use €150m to support the most vulnerable households. It has also cut duty on petrol and diesel by 21% until the end of the year.
The Netherlands is expecting to spend approximately €6bn (£5bn).
In Norway, the government has set a maximum price that households should pay for their energy - anything over that and the government will pay 80% of the bill.
This measure, along with other support, will cost around kr23.6bn (£2bn).
As part of an "anti-inflation shield", the Polish government has announced a plan to cut VAT on food, gas and fertilizers to 0%.
VAT on heating will come down to 5% while VAT on petrol and diesel will fall to 8%. These measures were scheduled to last for six months.
The Polish government is also sending money directly to seven million households, with some eligible for as much as €306 per year.
Along with other measures, Poland is expected to spend €9bn (£7.6bn).
Are these plans sustainable?
Some have wondered how long governments can carry on protecting consumers. If high inflation carries on into 2023 or beyond, governments might struggle to protect households.
"Such heavy subsidisation is unsustainable from a public-finance perspective and damaging from geopolitical and energy-security perspectives - not to mention for the environment," says Simone Tagliapietra, a Senior Fellow at Bruegel who has collected data on government measures to protect consumers.
Others fear what could happen if Europe is unable to find alternatives to Russian oil and gas.
"The most difficult moment should be the autumn and winter ahead," says Ilaria Conti, head of gas at the Florence School of Regulation.
The overall figure for UK was updated to take account of analysis by the IFS