Iran water: What's causing the shortages?
By Jack Goodman
BBC Reality Check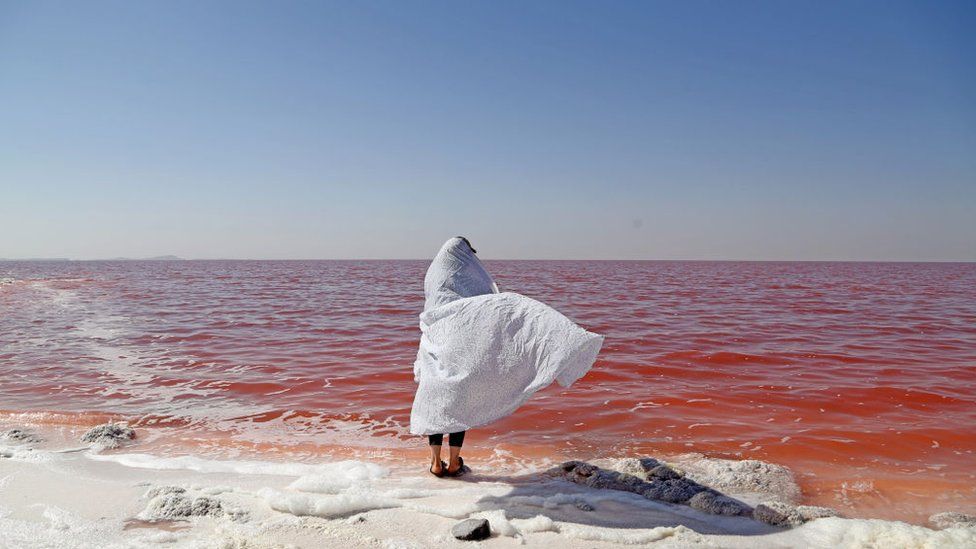 Protests in Iran against a range of grievances - including a severe lack of water and power blackouts - have drawn attention to the country's wider water problems.
Experts have raised concerns about the situation for many years, so what's to blame for Iran's water crisis?
In April, the Iranian Meteorological Organisation warned of an "unprecedented drought" and rainfall levels which were substantially below long-term averages.
In the oil-producing province of Khuzestan, residents took to the streets over water shortages, and there were protests against hydroelectric power cuts in other cities.
The government has responded with emergency assistance for the hardest-hit areas.
Iran faces a range of environmental challenges from high temperatures, pollution, flooding and vanishing lakes.
The amount of rainfall in Iran's main river basins between September 2020 and July 2021 was, in most places, substantially lower compared with the same period last year, according to data from the Ministry of Energy's website.
We haven't been able to access government figures for historical trends, but researchers in the United States have gathered data using satellite imagery.
This data compares rainfall up to March of this year against the 40-year average. The first three months of 2021 were all well below that average, according to the Center for Hydrometeorology at the University of California Irvine.
January was the driest recorded since 1983
March was one of the driest
November was quite wet but October was the driest in 40 years
What's happened in Khuzestan?
For a region which used to have plentiful water, the vital Karun river now often runs dry.
Satellites show its water level has steadily fallen over the last year, according to data gathered by researchers at Stuttgart University.
The spike in 2019 was due to severe flooding.
A map sourced to authorities in Khuzestan shows water levels in the region's dams in July 2021. The light blue line indicates the water level.
Many of the critical dams currently appear to be running low, and there have been calls for the release of remaining water to support rice and cattle farmers in the regions below them.
Some blamed the oil industry for causing disruption to local eco-systems.
Water diverted away from these areas and into the country's central desert regions has been another source of tension.
"Climate change and drought is a catalyst here," says Kaveh Madani, former deputy head of the Iranian Environment Department, who's now based at Yale University.
"But the problem is rooted in decades of bad management, poor environmental governance and lack of foresight, and not getting prepared for a situation like this."
Water challenges will get worse
Iran is heavily dependent on its shrinking water supplies.
Hotter and drier weather will have a greater impact on hydropower generation, which has already led to severe power disruptions this summer in Iran.
Protests against chaos-causing blackouts have taken place in Tehran and other cities, disrupting telecommunications and knocking out traffic lights.
Surging demand for air-conditioning to counter stifling heat has also contributed to the pressure on power grids.
Meanwhile, the huge amount of electricity powering servers used in crypto-currency mining has also been blamed for sapping the country's energy supplies.
Long-term water management problems
While the drought has created a challenging environment, the reasons for Iran's water crisis go deeper.
In 2015, an environmental expert warned there could be a mass exodus of millions if Iran didn't find a solution to its water crisis.
Groundwater is found in aquifers below Earth's surface and is a key source of water in Iran.
The push for national self-reliance in food has led to farmers using up larger quantities of groundwater.
Pumping out groundwater at a faster rate than it is replenished can lead to increased levels of salt in the soil, which can in turn affect soil fertility in food-producing regions.
There is a "very high salinity hazard" for irrigation water in many areas, according to a study in the Proceedings of the National Academy of Sciences.
Digging deeper for groundwater brings the threat of subsidence - cities literally sinking.
There is also concern about the drying up of wetland areas and rivers, which can trigger dangerous dust storms.
To feed rapid agricultural expansion in the area and in the middle of drought in the 1990s, farmers resorted to pumping out groundwater for their crops and the building of numerous dams.
Following public outcry, pledges from the president and improved irrigation, the lake's fortunes appear to be turning around.
The lake has now grown to about half its historic size and is in better shape, but it's unclear if this is due to reforms or increased rainfall - and prolonged drought may yet threaten its recovery.
Lake Urmia graphic produced by the Visual Journalism team.