Are lots of people deleting the NHS Covid app?
By Reality Check team
BBC News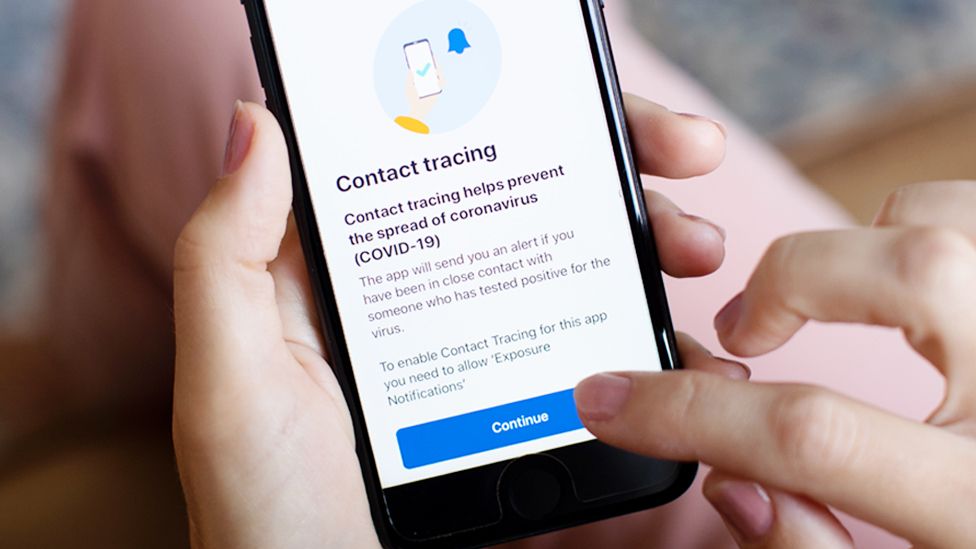 The government has suggested that the NHS Covid contact tracing app may need to change after Covid restrictions were lifted in England on 19 July.
The requirement to self-isolate for those who have been fully vaccinated, if they come into contact with someone who tests positive, is also being lifted but not until 16 August.
Transport Secretary Grant Shapps was asked on BBC Radio 4's Today programme whether people who have booked holidays, for example, might choose instead to delete the app or ignore it.
"We're still seeing large numbers of people downloading the app," Mr Shapps insisted.
So, what do the figures show?
How many people have downloaded the app?
There was a huge number of downloads when the app was released last autumn, with 18 million in just over a month (not shown in the chart below).
The app is available to download in England and Wales.
The downloads slowed after that, but picked up again in April 2021.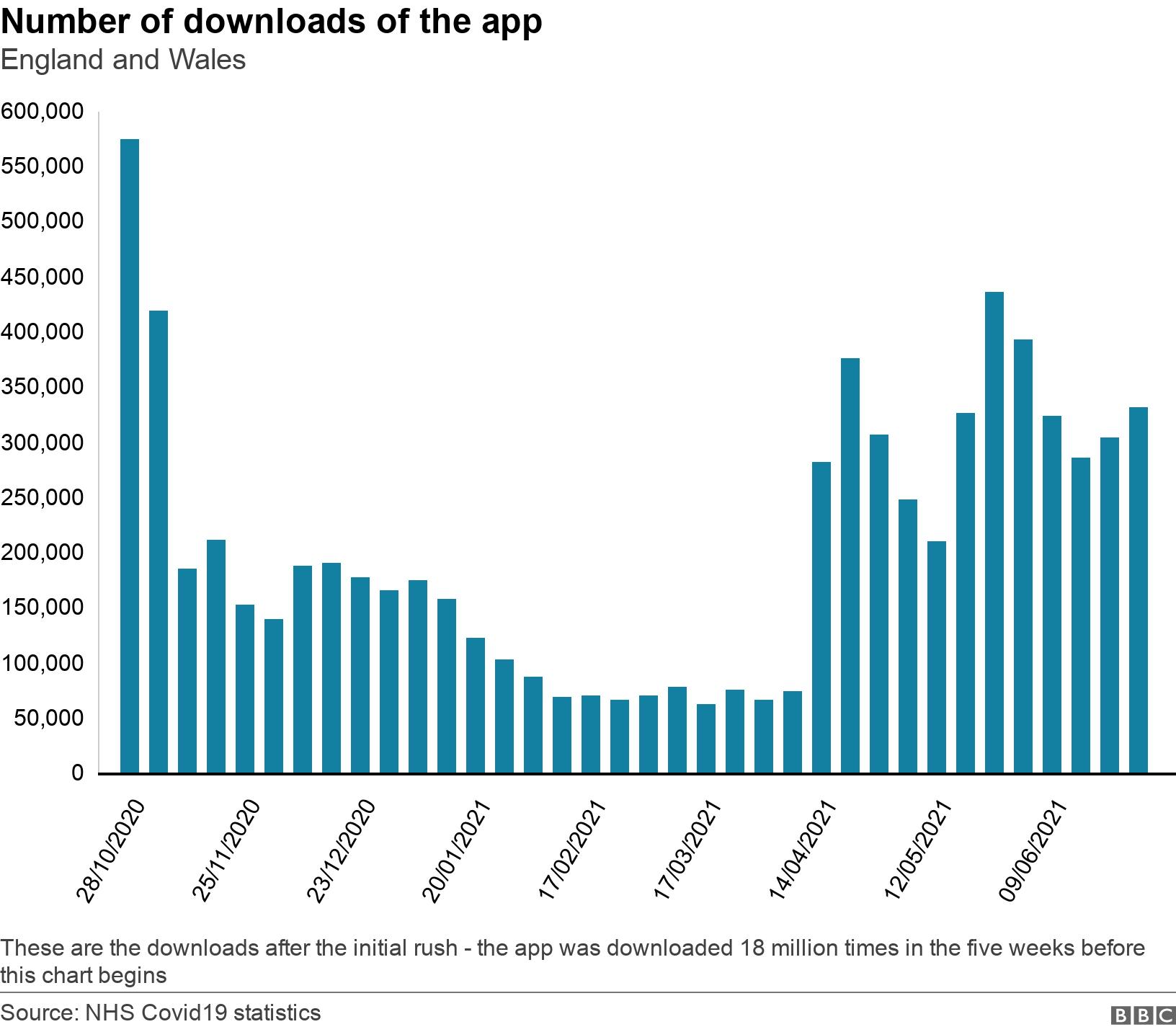 In the most recent week for which we have figures, the second week of July 2021, there were 302,895 downloads - around 40,000 down on the week before.
The total number of downloads in England and Wales is more than 26.8 million.
But remember that is a measure of downloads, not necessarily people, and some of those who downloaded the app have since deleted it.
We also don't know how many people have switched phones or reset their phones and downloaded it a second time.
How many people have deleted the app?
Prof Henry Potts, from University College London, told BBC News: "We have seen steadily rising numbers of people deleting the app."
He is part of the Corsair study, which is a series of surveys commissioned by the Department of Health and Social Care (DHSC).
About 2,000 people at a time were asked questions. Around 1,600 had a smartphone and were asked about their use of the Covid app.
In surveys in November and December 2020, between 5% and 7% of those who had downloaded it said they had since deleted it
In May and June 2021, that figure increased to between 8% and 11%.
Note that these are preliminary results that have not yet been peer reviewed for publication.
Also, while people might still have the app on their phones, they may have the contact tracing function switched off.
We asked DHSC for the number of people who had deleted the app but the department said there was no reliable figure, because it would be based only on the people who had opted to share their data.
Dr Jenny Harries, the head of the new UK Health Security Agency, told MPs on Thursday she was "aware that people are choosing not to use the app" when asked about concerns people have been deleting it to avoid being "pinged".
'My boss told me to switch the app off'
Jamie (not their real name) is currently isolating after being told to by the app.
"Since being told to self-isolate I have been chastised by friends who I've had to cancel plans with, and my boss told me to switch the app off.
"Other colleagues told me they just ignored the app when they were told to self-isolate.
"I feel like I'm being punished for following the rules and it's not clear whether I am lawfully required to not go to work, or whether I should just ignore the app instead of risking losing my job."
How many people are being pinged?
We know that recently the number of alerts sent to app users telling them to isolate has been increasing rapidly.
But that is no great surprise, because we know that the number of infections has also been rising fast.
The latest infection survey from the Office for National Statistics suggests that about 741,700 people in England would test positive in the week to 17 July, up from 577,700 people in the previous week.
Contact tracing is not the only function of the app - it also allows users to check into venues that they are visiting.
The latest weekly figures show that the number of check-ins is down about two million from the peak in early June, despite the attraction of pubs showing the Euro 2020 football tournament.
This piece was first published on 9 July and has been updated with the latest statistics.