Cannes Film Festival rolls out red carpet again after year off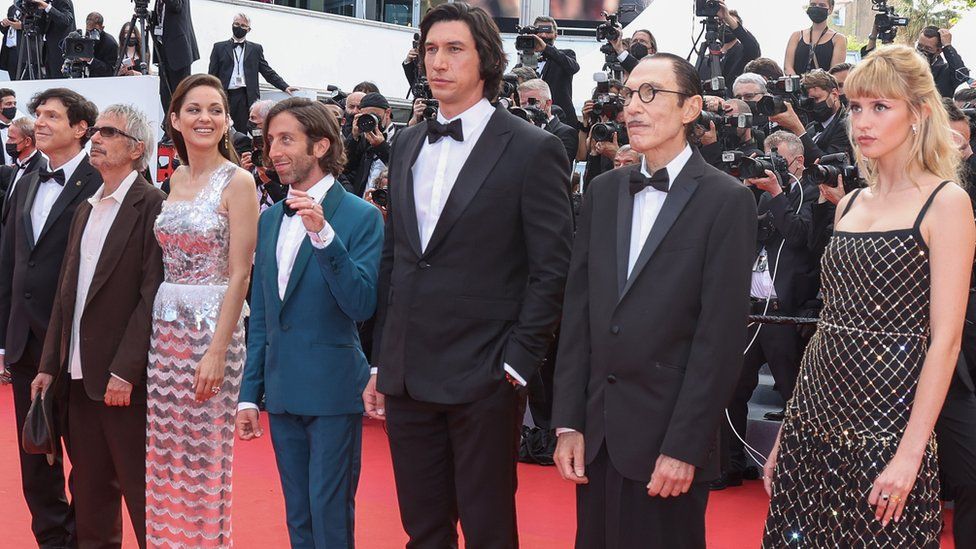 Movie stars returned to the red carpet on Tuesday as the Cannes Film Festival came back after a year off.
The glamorous event is the first major film festival to take place fully in person since the start of the pandemic.
This year's opening film was the band Sparks' musical Annette, starring Adam Driver and Marion Cotillard.
There was no social distancing on the red carpet, and a no-kissing rule was immediately flouted on opening night by festival president Pierre Lescure.
US actor Driver told the Agence France Presse news agency: "Covid is still there, but it's a huge sense of relief and excitement [to be in Cannes]."
At the end of the first screening, those inside the Palais des Festivals gave the Annette actors and film-makers a five-minute standing ovation.
Jodie Foster was also present to receive an honorary award celebrating her career from Spanish director Pedro Almodovar.
Foster, flanked by Almodovar, Parasite director and 2019 Palme d'Or winner Bong Joon-ho and Spike Lee, the chair of this year's jury, then declared the event open.
Lee, who is the first black man to head the panel that will pick this year's award winners, earlier told a press conference that "this world is run by gangsters".
"Agent Orange [Donald Trump], this guy in Brazil [President Jair Bolsonaro] and [Russian president Vladimir] Putin are gangsters," said Lee, who was wearing a cap displaying 1619, the year when the first African slaves arrived in the Americas.
"They have no morals, no scruples. That's the world we live in," said the Malcolm X and Do The Right Thing director.
No kissing, but plenty of spitting
Masks were allowed to be ditched for the walk along the red carpet, but the no-kissing rule was disregarded right away by Mr Lescure, who gave two pecks to actress Jessica Chastain and then former French first lady Carla Bruni. He then bowed to kiss French actor and jury member Melanie Laurent on the hand.
Even festival director Thierry Fremaux, who had insisted on the ban, allowed Bong Joon-ho to give him a hug.
Delegates did have to, on arrival, spit into tubes for a Covid saliva test in a booth.
While the glitz and glamour has been toned down this year and many parties scaled back or cancelled, a raft of Hollywood stars - including Timothee Chalamet, Nicole Kidman and Matt Damon - are expected to grace Cannes (and also spit into a tube) between now and 17 July.
This year, 24 films are in competition for the Palme d'Or, the festival's top prize. Lee is joined on the jury by US star Maggie Gyllenhaal, Canadian-French singer Mylene Farmer and French-Senegalese director Mati Diop, who made history two years ago as the first black female director in competition at Cannes.
However, only four of the 24 directors in this year's main competition are female. Only one woman has won the top Palme d'Or prize in the 73 editions of the festival - Jane Campion for The Piano in 1993.
What else is on this year at Cannes?
A new film directed by and starring Sean Penn is among the movies set to premiere in competition. Flag Day tells the story of a father who lives a double life as a counterfeiter, bank robber and conman in order to provide for his daughter, played by Penn's real-life daughter Dylan.
Wes Anderson's new film The French Dispatch stars Timothee Chalamet, Elisabeth Moss, Tilda Swinton and Frances McDormand.
Robocop and Basic Instinct director Paul Verhoeven's new film Benedetta is about Benedetta Carlini, a 17th Century lesbian nun.
French director Mia Hansen-Love will premiere Bergman Island, about an American film-making couple, starring Tim Roth, Mia Wasikowska and Vicky Krieps.
Tom McCarthy will return with his first dramatic film since winning the best picture Oscar for Spotlight. Still Water will see Matt Damon star as a father trying to exonerate his estranged daughter when she is accused of murder.
Oliver Stone will premiere the documentary JFK Revisited: Through The Looking Glass, 30 years after his feature film JFK.
There's a documentary about Top Gun and The Doors star Val Kilmer who has had throat cancer and a tracheotomy, which has left him with difficulties speaking.
Actress Charlotte Gainsbourg, the daughter of Jane Birkin and Serge Gainsbourg, will make her directorial debut with Jane Par Charlotte.
Other directors debuting their films include Andrea Arnold, who will premiere Cow, and Todd Haynes, who will unveil The Velvet Underground.
Previous Palme d'Or winners Jacques Audiard and Apichatpong Weerasethakul will debut their new films Les Olympiades and Memoria respectively.