Israel-Gaza: The ceasefire deal between Israel and Hamas
By Reality Check
BBC News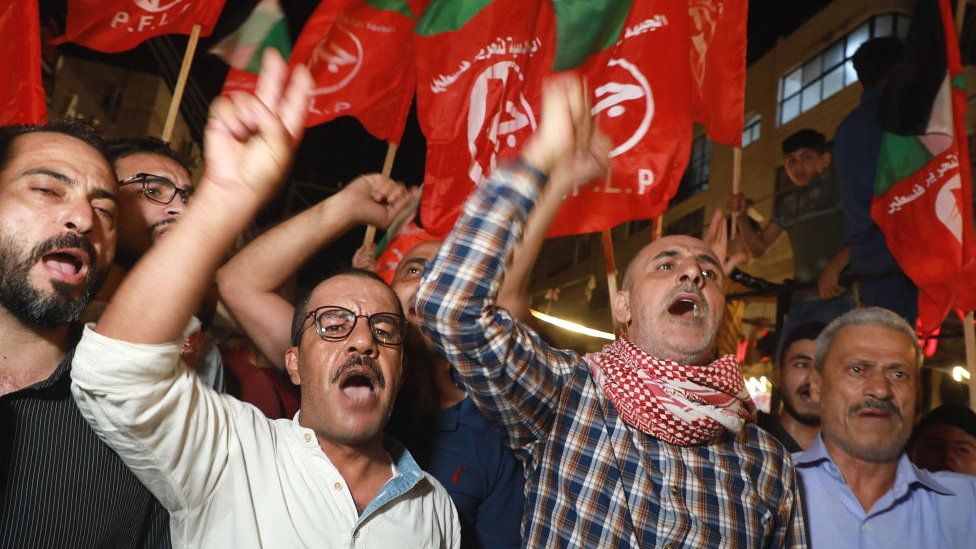 A ceasefire has come into effect between Israel and the Palestinian militant group Hamas in the Gaza Strip.
It has brought to an end 11 days of hostilities, which saw militants fire 4,000 rockets towards Israel and the Israeli military strike 1,500 targets in Gaza.
At least 243 people, including more than 100 women and children, were killed in Gaza, according to its health ministry. Israel has said it killed at least 225 militants during the fighting.
In Israel, 12 people, including two children, were killed, its medical service says.
What are the details of the ceasefire?
A ceasefire is simply an announcement by both sides not to carry on fighting, either indefinitely or for a limited period of time.
It's entirely possible fighting could resume at some point, judging by past confrontations between Israel and Hamas which have ended with ceasefires.
Both sides agreed to stop fighting at 02:00 local time on Friday (23:00 GMT on Thursday).
In the run up to this deadline, there were reports of Israeli air strikes on Gaza and rockets fired into Israel.
What are the terms of the ceasefire?
Very few details have been made public, with negotiations for the ceasefire taking place behind the scenes.
Regional powers such as Egypt and Qatar were involved, as well as the US and the United Nations (UN).
The Israeli prime minister's office issued a statement saying Israel had agreed to a "mutual and unconditional" cessation of hostilities.
A Hamas leader told the BBC in Gaza that Israel had agreed to "lift their hands off" the al-Aqsa mosque in occupied East Jerusalem (one of Islam's holiest sites) and the nearby district of Sheikh Jarrah, where there have been moves by Jewish settlers to evict Palestinian families.
However, this was denied by Israel.
These two issues were flashpoints leading to the outbreak of hostilities between the two sides earlier this month.
Prime Minister Benjamin Netanyahu has said the Israeli air attacks on Gaza were an "exceptional success" which "changed the equation" with Hamas.
Israel is reported to have allowed a crossing point into the Gaza Strip to reopen to allow humanitarian aid into the area.
In Israel, most emergency restrictions on movement around the country have been lifted, and flights will resume in a few days.
How long will the ceasefire last?
This ceasefire is not time-limited, and leaders around the world have expressed their hope that it will last indefinitely.
Egypt has said it will send two delegations to monitor the ceasefire, one to Tel Aviv and another to Gaza. According to reports, they will be looking at ways to maintain it permanently.
US President Joe Biden said the move brought "genuine opportunity" for progress.
A statement from the EU said: "We commend Egypt, the UN, the US and others who played a role in facilitating this."
China said it hoped the parties would implement the ceasefire in earnest.
British Prime Minister Boris Johnson also welcomed the ceasefire, but said both sides must now find a "durable solution" to the conflict.
However, the ceasefire does not tackle the underlying issues between Israel and the Palestinians.
There have been many attempts to try to resolve these issues over the years, but without success.
They include the future status of Jerusalem, the fate of Jewish settlements in the occupied West Bank, the issue of Palestinian refugees, and whether or not a Palestinian state should be created.
What's happened in previous ceasefires?
In the 2014 conflict, when Israeli ground forces went into Gaza, there were numerous attempts to implement a ceasefire before hostilities finally stopped.
In 2008, a ceasefire negotiated by Egypt earlier in the year, broke down by November, and Israel launched a major ground offensive into Gaza the following month.
This time round, the Israeli Defence Minister Benny Ganz has warned that the "reality on the ground" will determine what happens next between Israel and Hamas.
He added Israeli defence would maintain its readiness to protect Israeli citizens.