India variant: Why was India not put on the red list sooner?
By Reality Check team
BBC News
Yvette Cooper, the Labour MP who chairs Parliament's Home Affairs Committee, has criticised the delay in putting India on the government's travel-ban "red list".
"They should have put India on the red list at the same time as Pakistan and Bangladesh. Since then, we've had this three-week period in which thousands of people have returned from India and that probably includes hundreds of the new variant Covid cases," she told the BBC's Andrew Marr Show.
India was added to the red list on 23 April, but neighbouring Pakistan and Bangladesh had been on it since 9 April.
One of the variants of coronavirus first identified in India has spread to the UK. Just under half of these cases involve international travel and the strain has now been designated a "variant of concern".
What is the red list?
The red list is the government's list of 43 countries from which there are strict restrictions on travel to England.
Northern Ireland, Scotland and Wales all have similar rules in place with the same list of countries.
The restrictions are designed to protect the UK from new variants, against which vaccines may be less effective and which may spread more easily.
Travel to England is banned for anyone who has been in one of the countries in the past 10 days, except for UK citizens and residents, who have to isolate on arrival at government-approved hotels.
Direct flights are banned from most red list countries, but not Pakistan, Bangladesh, Kenya and India.
The government says this is to allow critical freight and make it easier for British nationals to return home.
What are the criteria for going on the red list?
The decision is based on Joint Biosecurity Centre risk assessments, which include:
how good a country's testing structures are, including checking for variants
how many cases those systems have identified
whether people in that country have been catching new variants at home or the cases have come from overseas
evidence of whether that country has exported cases of new variants to other countries, including to the UK
how good the country's travel links with the UK are
The first point is important, because the genome sequencing needed to identify new variants is very sophisticated and relatively rare.
But just because a country has found variants of concern, or has many cases of coronavirus, it will not necessarily be on the red list.
On 18 May, the World Health Organization identified:
106 countries where the variant identified in South Africa had been found, of which 28 are on the red list
61 countries with the variant identified in Brazil, of which 19 are on the red list
48 countries with the variant identified in India, of which 6 are on the red list.
Why were Pakistan and Bangladesh put on the red list before India?
Bangladesh had the South Africa but not the Brazil variant and Pakistan had neither when they were added to the red list on 9 April.
India had both, as well as a new variant, but was not added for another two weeks.
Pakistan had a seven-day average of 21 cases per million people
Bangladesh had twice as many
India had four times as many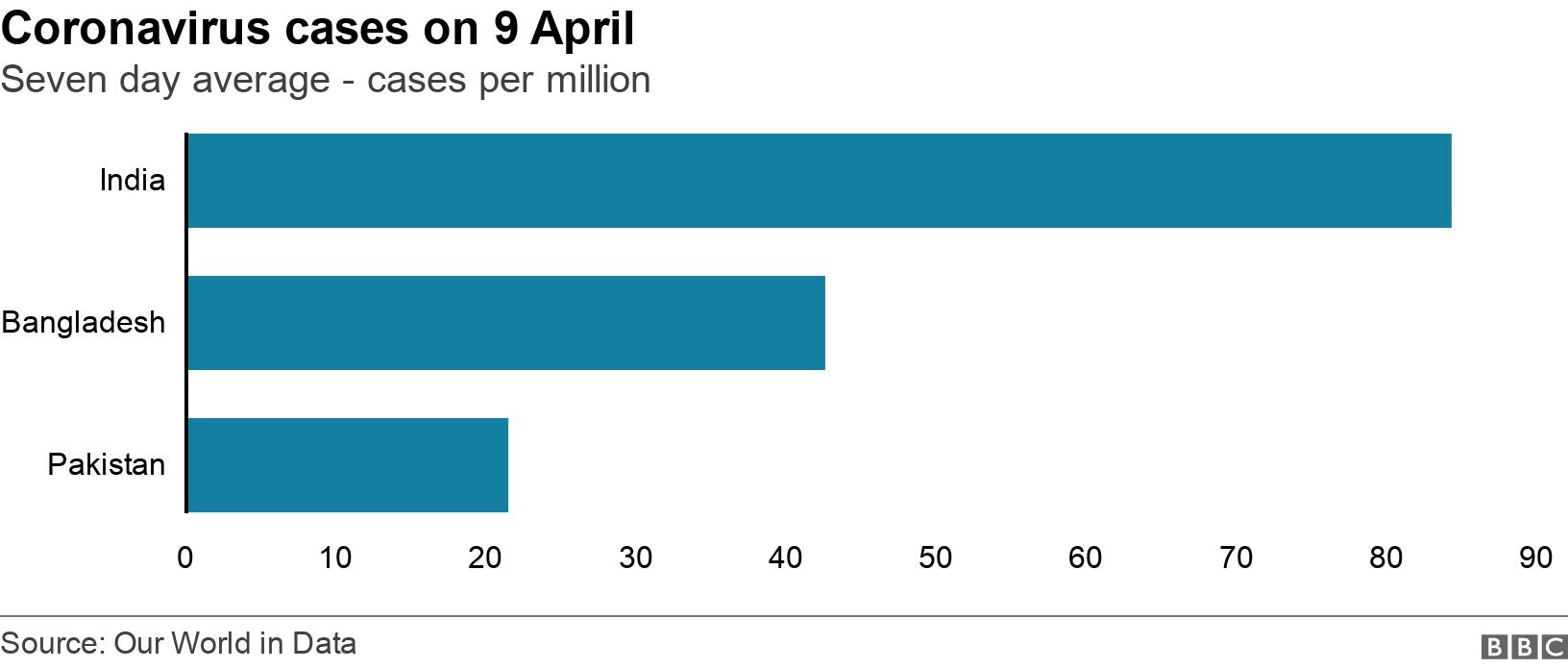 Health Secretary Matt Hancock said these figures depended on how much testing was being done and said "far more" was carried out in India.
He said the decision to add Pakistan and Bangladesh earlier was based on a higher proportion of people arriving in the UK from these countries, testing positive for coronavirus.
"When we put Pakistan and Bangladesh on the red list, positivity among those arriving from those countries was three times higher than it was among those arriving from India," Mr Hancock told Parliament on 17 May.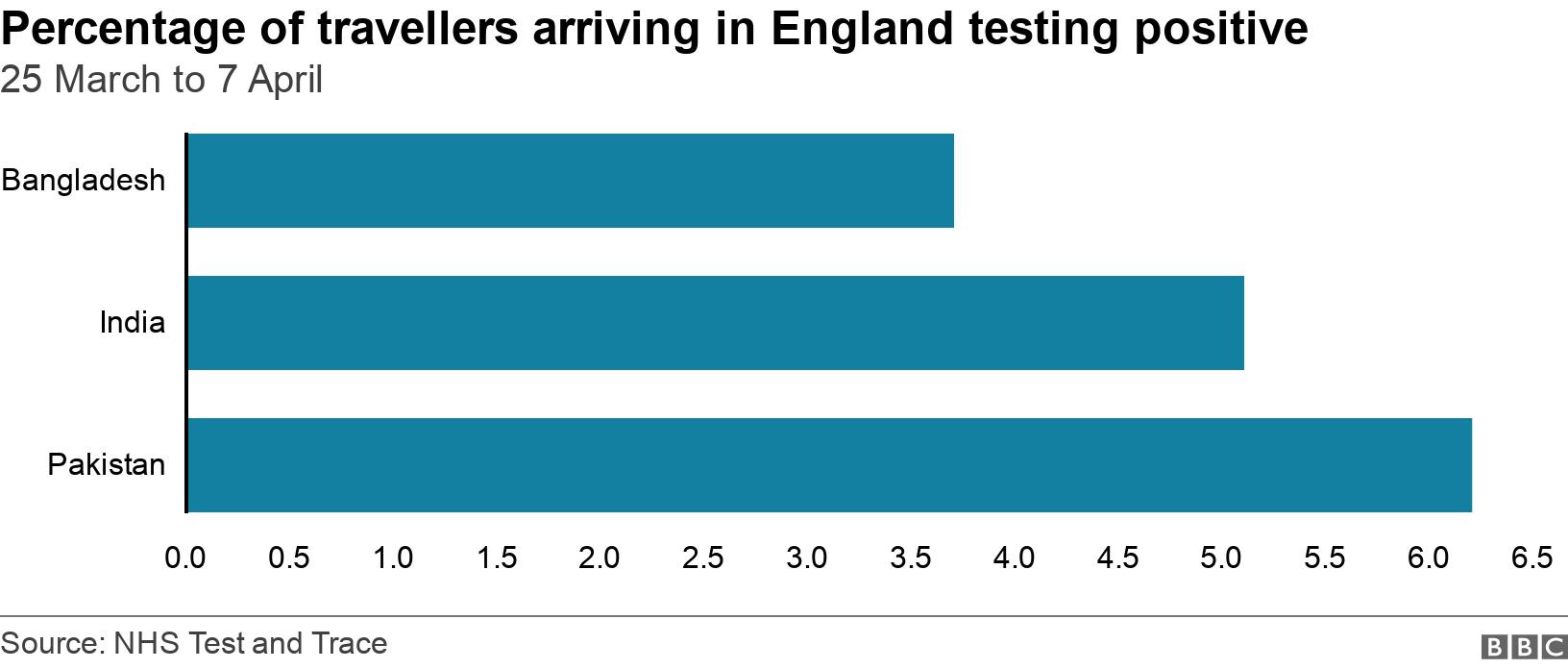 For the period 25 March to 7 April, the positivity rate from Bangladesh was 3.7%, from India was 5.1% and from Pakistan was 6.2%.
Mr Hancock was asked about this in Parliament on 19 May and said: "The positivity rate in India, on which the decision to put Pakistan but not India on the red list was 1.6% in India and 4.6% in Pakistan, which is three times higher, as I said."
But those are not published figures. He didn't give the date for them and didn't mention Bangladesh this time.
"Nobody knows the full criteria - but there may be a political element because the UK wants a trade deal with India," Dr Simon Clarke, associate professor in cellular microbiology, at the University of Reading, said.
Boris Johnson had planned a trade visit to India but cancelled it on 19 April - days before the country was added to the red list.
How many cases of the new India variant have been found?
One of the variants first identified in India was designated as a variant of concern on 7 May.
By 17 May, 2,323 cases of this variant had been found in the UK, of which 483 had been in Bolton and Blackburn with Darwen.
The WHO said it appeared to have a higher rate of transmission and that there was preliminary evidence suggesting some vaccines may be less effective against it.
How much is linked to international travel?
In the four weeks before India was added to the red list, 6,560 people were tested on arrival in England from India. Of those, 425 tested positive for coronavirus, which is about 6%.
The Civil Aviation Authority said that in February 2021, 50,000 passengers travelled between India and the UK, which is an average of just under 900 a day in each direction.
It said that about one third of the cases were in London and a quarter were in the North West of England. Almost 60% of positive Covid19 tests are now sent for genome sequencing to identify new variants, which means the government has a good idea of where the cases are.
Asked about the delays in adding India to the red list, the UK's former chief scientific adviser Prof Mark Walport told the BBC: "These decisions are almost inevitably taken a bit too late in truth."