NHS pay: How much will staff be paid?
By Reality Check
BBC News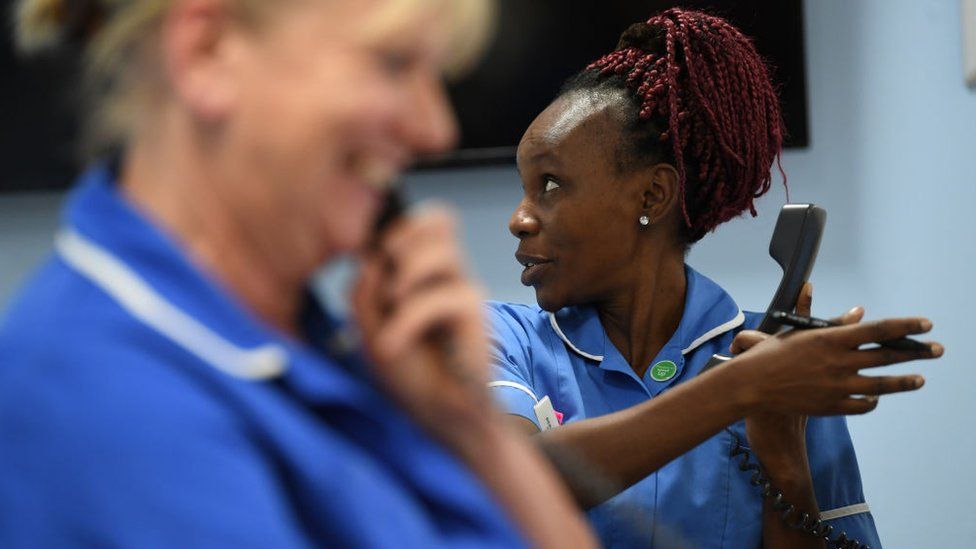 NHS staff in England will be given a 3% pay rise backdated to April.
Can the UK afford a 3% pay rise?
When defending the proposed 1% increase in March, Prime Minister Boris Johnson described it as "as much as we can at the present time".
However, the government now says: "The economy is actually doing better than we anticipated four months ago".
At the start of the year, the International Monetary Fund predicted that the British economy would grow by 4.5% in 2021. Following the vaccine programme and the reopening of businesses, they now expect the UK economy to grow by 5.3% this year.
The Bank of England expects the economy to grow by 7.25%, which would be the fastest growth in more than 70 years.
According to the Office for National Statistics, the government received £62.2bn in taxes in June compared with £46.2bn in February. But in June alone, the government also borrowed £22.8bn and spent £8.7bn on interest payments after a year and a half of record borrowing.
However, the prime minister's spokesman says the pay rise won't come from borrowing.
"It will be funded from within the NHS budget but we're very clear it won't impact frontline services."
Around half of all public-sector workers, including NHS staff, police officers and teachers, have their salaries negotiated by independent pay-review bodies.
These pay bodies - made up of individuals not directly attached to the relevant department but with experience in economics and employee relations - work with government departments, unions and other groups to come up with a recommendation on how pay should change each year.
This recommendation is non-binding - meaning ultimately the government decides.
The exception was for those on salaries under £24,000 and for NHS staff.
It was initially recommended, by the Department for Health and Social Care (DHSC), that pay should rise by just 1% for 2021-22.
The DHSC cited the "uncertain" financial situation and low inflation. It also said anything more than 1% would require "reprioritisation" of the NHS budget.
But inflation has risen significantly since March. In June, it reached 2.5% - the highest it has been for nearly three years.
But he said "things have changed" since then, and said it should now be up to the pay-review body.
The pay-review body takes evidence from other groups, including unions and NHS bodies, and will have done its own calculations before making its recommendation.
On 21 July the government announced it would accept the pay review bodies' recommendations in full this year, giving NHS staff a 3% pay rise.
However, it is up to the individual UK nations to decide whether to accept them.
This follows a one-off Covid payment for health and social care staff of £500.
How has NHS pay changed over time?
In 2010-11, it was decided that pay would be frozen for all public-sector workers as part of government austerity measures.
Strict pay freezes or pay caps were implemented until 2018-19, when the government removed these limits and a three-year pay agreement was implemented for NHS staff in England.
But the impact of inflation means that over the whole period some salaries are worth less than they were a decade ago.
For example, a newly qualified nurse starting in 2020-21 would be earning about 3% less than one who started in 2010-11, once we account for inflation and the impact of pay freezes and caps.
Nurses are just one part of the NHS workforce and the pay agreement implemented in 2018-19 affected different staff members in different ways.
For example, the agreement meant the wages of those in the very lowest pay band, such as housekeeping or security staff, increased by almost 30% over the past three years.
Staff at the top of their pay bands would have had a smaller pay increase.
And it's important to point out that the pay of many NHS staff increases as their experience grows and they move up within pay bands.