Covid: Sir Rocco Forte's claims fact-checked
By Reality Check team
BBC News
Hotel owner Sir Rocco Forte has criticised the government's response to the pandemic, saying "they've overreacted, they've panicked", while also questioning the virus's fatality rate. But are his claims correct?
Claim: Flu deaths are currently higher
Sir Rocco Forte said "at the moment now, we have more people dying of influenza and pneumonia than we have of Covid".
In England, there are currently 10,308 people being treated in hospital for Covid-19, whereas last week there were only two people admitted to hospital with influenza.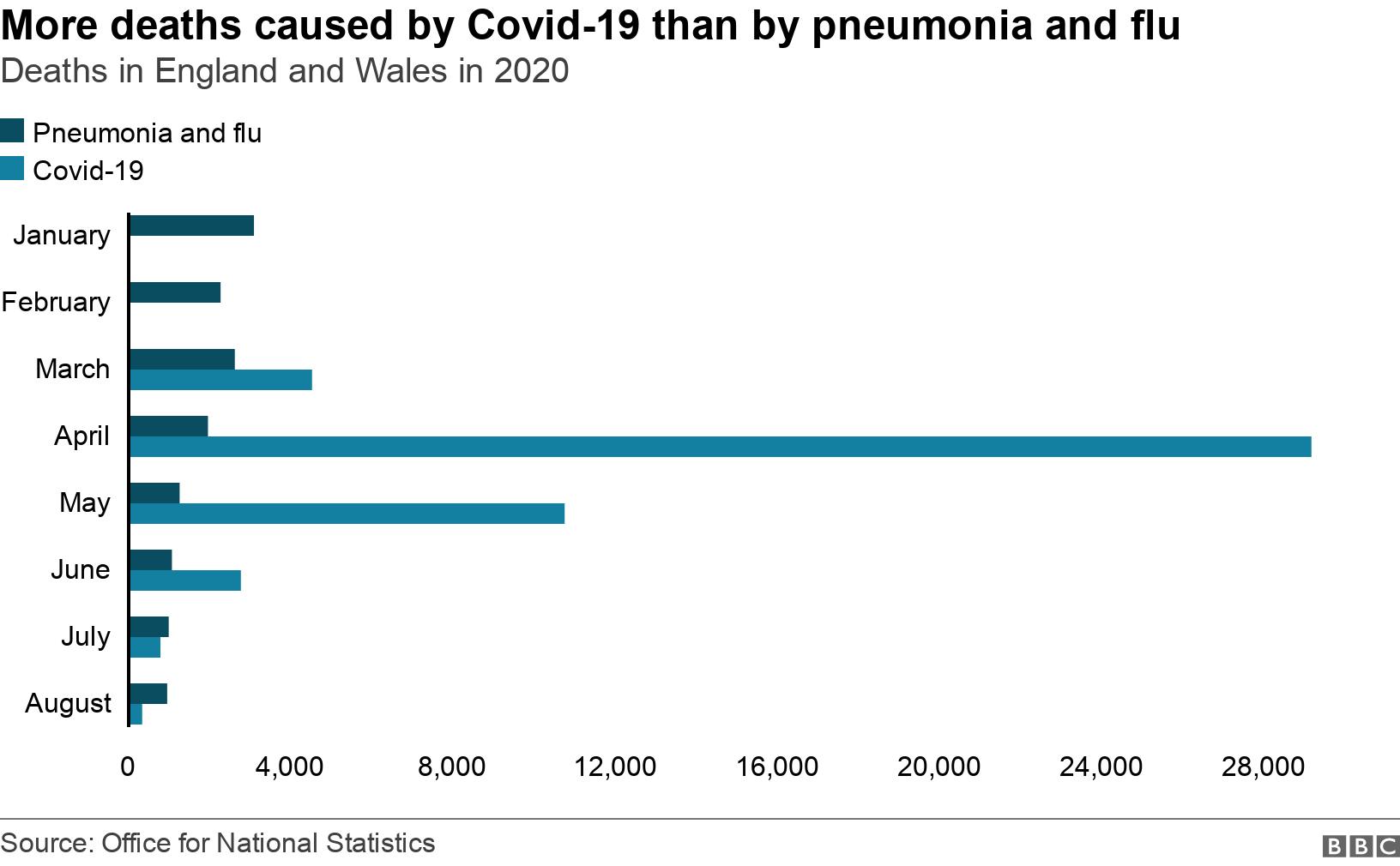 According to William Irving, a professor of virology at the University of Nottingham, "we've seen very few influenza cases thus far".
"We get winter epidemics of influenza every year, the timing does vary - could happen anytime from October through to February - but we've definitely not started one yet this winter."
Claim: Covid-19 excess deaths are the same as 2017-18 winter flu season
Sir Rocco compared excess deaths from Covid-19 and winter flu three years ago, saying in the "2017-18 flu epidemic, there were 50,000 excess deaths... you've had the same number of excess deaths during this pandemic".
He is confusing excess deaths (the number of deaths in a particular period compared with the average number for that period over the past five years) with winter excess deaths (the number of deaths in the whole of the winter compared with the number in summer).
Over the winter of 2017-18 there were about 50,000 winter excess deaths in England and Wales, but only about half that number of excess deaths - that's because you expect more people to die in the winter than the summer for various reasons, one of which is flu.
Sir Rocco's comparison also doesn't account for the public health measures in place during the coronavirus pandemic.
"Restrictions put in place in March prevented hundreds of thousands of additional deaths, by contrast with flu where restrictions were not put in place," said Dr Deepti Gurdasani, an epidemiologist at Queen Mary University of London.
"This is because SARS-CoV-2 spreads more rapidly than the flu, and is several fold deadlier when it causes infection."
Claim: Epidemiologists forecast 500,000 Covid-19 deaths in UK
Sir Rocco accused the government of panicking "on the basis of a forecast of 500,000 deaths". He went on to say "we're now seeing [a] new forecast done by the same people who made the mistakes last time round forecasting Armageddon".
Back in March a report by Prof Neil Ferguson, who worked as a government adviser in the early stages of the pandemic, predicted that 500,000 could die if the government did not take action.
The modelling predicted very high numbers of deaths for both the UK and the US, but only "in the (unlikely) absence of any control measures or spontaneous changes in individual behaviour".
Shortly after the UK went into lockdown Prof Ferguson said he was "reasonably confident" the UK death toll would not exceed 20,000.
Dr Gurdasani said the Imperial model was "widely accepted as an estimate of the likely death toll from unmitigated spread due to coronavirus, if no action was taken to control it".
She added: "The government didn't overreact, but rather underreacted. Evidence suggests that waiting on lockdown in March cost tens of thousands of lives."
Claim: Scientists suggested a third of the population would die
Sir Rocco said the virus is "not the killer it was thought to be at the beginning", adding that "they were talking about a bubonic-type plague with a third of the population dying".
"No credible scientist, or scientific publication has ever suggested that a third of the population will die from Covid-19," said Dr Gurdasani in response to Mr Forte's claim.
"To suggest that scientists and modellers have been claiming this is false. We know the overall infection fatality rate is approximately 1% and varies with age."
Reporting by Oliver Barnes, Anthony Reuben & Nicholas Barrett