Jet2 tells some holidaymakers in Spain to come home early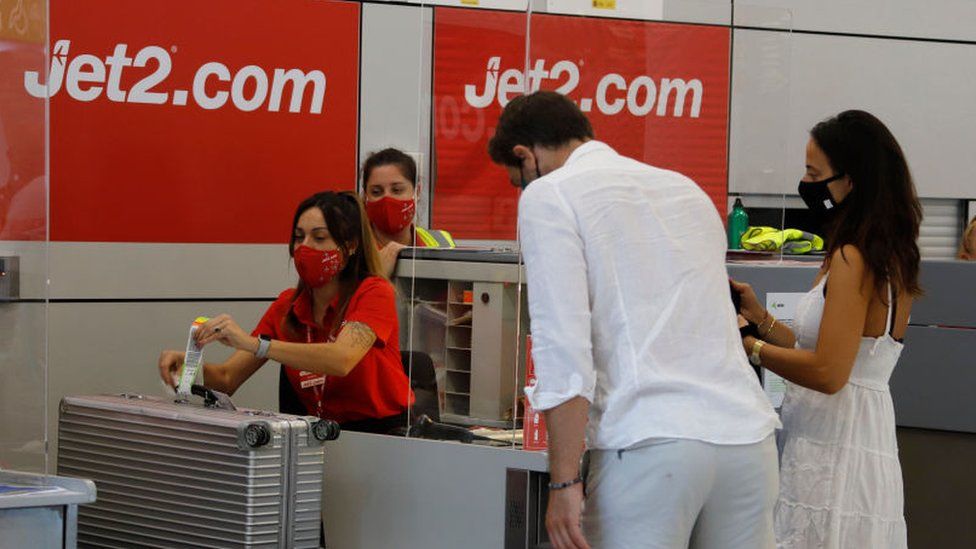 Jet2 is contacting some customers on Spain's Balearic and Canary Islands to ask them to end their package holidays early, the BBC has learned.
Hundreds of customers have had flights back to the UK cancelled and been asked to return sooner than planned.
Jet2 said it cannot keep sending empty planes to pick up passengers on many different dates.
BBC correspondent Gavin Lee said he understands some families on Majorca refused to accept an early return.
He said travellers were informed of the changes via emails and text messages.
Jet2 told the BBC that flights and holidays to Tenerife, Gran Canaria, Fuerteventura, Lanzarote, Majorca, Menorca and Ibiza up to and including 9 August have been suspended.
This follows a decision to suspend all holidays and flights to destinations in mainland Spain - Costa de Almeria, Alicante, Malaga and Murcia - up to and including 16 August.
"We are operating empty outbound flights to pick up customers from these destinations up to and including 3 August, and we are contacting customers who are currently in these destinations to advise them of their options regarding flying back to the UK," a Jet2 spokeswoman told the BBC.
"We appreciate that some of our package holiday customers were due to stay on holiday for longer than this and we apologise for any inconvenience caused.
"It is important to note that we are responding to a very fast-moving situation with updates coming from the government with little or no notice, and we have had to make decisions about our programme accordingly. We can assure these customers that we will be in touch with them to resolve any issues that they may have."
Current government advice to holidaymakers in Spain is that there is no need to leave the country at this time.
It says travellers should follow the advice of the local authorities on how best to protect themselves and others, including any measures that they bring in to control the virus.
People returning to the UK from Spain have to self-isolate for 14 days.
Ryanair has confirmed that its flights between the UK and Spain are operating normally, while EasyJet is not currently offering holiday packages to any destination. The airline said its holiday operations will start on 1 August.
Some travellers have told the BBC that they have been left in the dark, because Jet2 has not confirmed which day they are now meant to return to the UK.
Simon Fordy, from Cumbria, is currently in Magaluf with his family. He is feeling "confused and upset" by the news, having spent almost £3,000 on an 11-day holiday.
Mr Fordy said the family is only five days into their summer break, but their return flight has been cancelled.
He told the BBC he is now "constantly checking" his mobile phone, in case he receives word from Jet2 that the family needs to leave in the morning.
"We have been told our holiday will be cut short, but we have not been told how much earlier that will be," he said.
It is understood that several families in Magaluf have refused to accept an earlier return flight offered by Jet2.
The UK is advising against all non-essential travel to Spain, including the Balearic and Canary Islands.
It also removed Spain and its islands from the list of countries that are exempt from the 14-day quarantine rule, after Boris Johnson warned that there were signs of a "second wave" of coronavirus in Europe on Tuesday.
At the Sol Katmandu theme park hotel in Magaluf, more than are a dozen British families say they were due to fly back with Jet2 next week.
They've been searching for the Jet2 tour representative today looking for answers to when they might come home, now that all of their flights are cancelled.
"The rep is absolutely nowhere to be seen today," says Lydia from Glasgow. She's been here 48 hours and says her two boys have been crying about coming back early, after their flight next Thursday was cancelled.
At other hotels, several families who have managed to contact Jet2 staff, have been told they will be eligible for a refund in 28 days, and advised to try and rebook a flight with them before Tuesday.
However, the customers claim that Jet2 is charging them more money to fly back on the rescheduled flight, such as Anna Boyne from Boston, Lincolnshire, who spent most of Thursday on her computer at her beachside apartment in the Mallorca resort of Santanyí.
She has been trying to to work out what to do now: "We've got six days left of our holiday, and we're now forced into rebooking flights with Jet2 that are £300 more expensive than my original flights.
"There's been no explanation. It's absolute profiteering. Who's policing this?"
Jet2 told the BBC that it is looking into the claims made by Ms Boyne.
There are many complications ahead here, for those trying to get home.
Please include a contact number if you are willing to speak to a BBC journalist. You can also contact us in the following ways: