Does bralet boom spell the end of high-rise boobs?
By Elizabeth Joyce
BBC News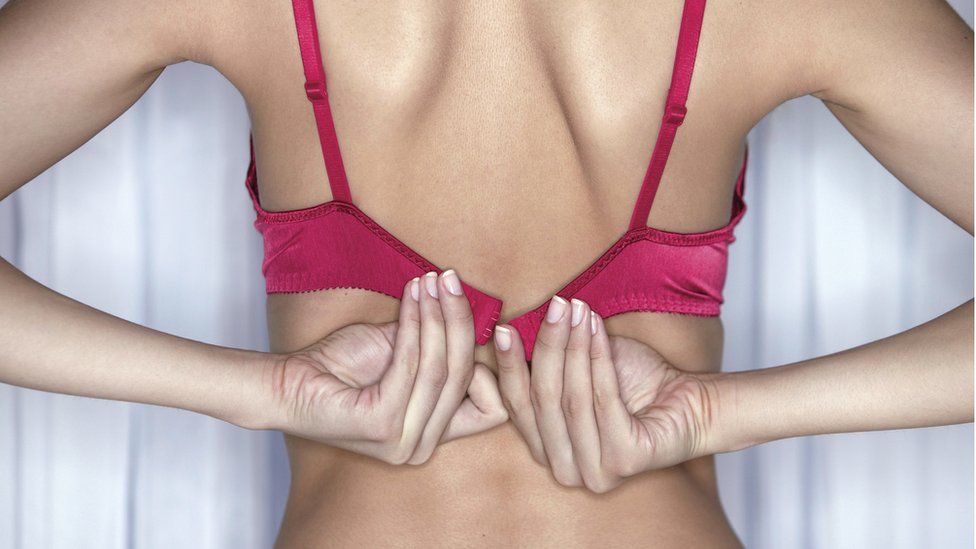 Ahh, that perfect ping at the end of the day.
After hours of being prodded and pinched, the unclasping of your underwired bra is a relief like no other.
Women have been wearing underwires since the 1930s, but it seems we're falling out of love with lingerie with in-built scaffolding.
A more confident consumer is craving comfort and a natural silhouette - and what women want in this fiercely competitive, billion-dollar industry matters.
Influencers, too, are championing the natural female form.
In her Saggy Boobs Matter blog, Chidera Eggerue, who goes braless, says there's "more than one way to be beautiful" and "it's not about how perky your boobs are".
"Impressing men isn't even a goal worth making," she says - urging women to have control and confidence in their natural appearance.
"There is literally no wrong way to be a woman... nature doesn't recognise beauty standards," she says.
Retailers have reported a rise in sales of bralets, crop tops and sportswear over the past two years and this new wave of undies is for everyone, not just the Kendall Jenners and Gigi Hadids of this world.
In the past 12 months, Marks & Spencer has upped its number of bralet styles from 19 to 24, in sizes up to DD+.
Asos is also awash with non-wired options in sizes up to 42GG, while New Look says its bestselling bralet has a wide, elastic band to support bigger boobs.
Kirsty Bosley, 31, from the West Midlands, says women have had enough of painful underwired styles but she struggles to find alternatives.
"Having big boobs is painful," she says.
"Of course there's some back and shoulder discomfort as a result of carrying them around all day, but it's bra discomfort that's the worst thing about it.
"At the end of each day, when I take off my bra, I have huge red welts on my body where the underwire has dug into my flesh, spanning right across my ribcage.
"Going braless isn't really an option, as I don't want the unwanted attention that may come as a result of the jiggle, so I just live with the discomfort.
"We need wider straps and often more than two hook-and-eye fastenings to help distribute the weight.
"Everyone should be comfortable and happy in what they wear, I just wish that was easier for plus-size girls to achieve."
Non-wired options also fall into the millennial megatrend of underwear-as-outerwear.
Lounging around in a sports bra and leggings or going out-out in a lacy bralet and jeans are mainstream looks, embraced by a body-confident generation who dress for themselves, their pals and Instagram.
Soozie Jenkinson, head of design at M&S, says bralets have "certainly become a lingerie drawer staple".
"Lingerie has seen a real shift with an increased focus on comfort and the natural female silhouette, explaining why the bralet, with its lightweight and delicate features is becoming a go-to style for a lot of women," she says.
"The laid back, unstructured and casual shape appeals to our customers, who have been buying into this popular style of bra."
A spokeswoman for New Look says: "Historically, customers have preferred wired bras for support and cleavage. However, throughout the last two years we have seen a rise in appetite for soft silhouettes and functional comfort."
On social media, "freedom" and "comfort" are the buzzwords, with women describing underwired bras as "scaffolding" and "the first thing to come off when I am at home".
"I have long abandoned traditional wire bras and usually only wear comfy bralets... I just don't want any strap of any sort on my back or shoulders. Has nothing to do with size," says one Reddit post.
The origin of the underwired bra can be traced back to New York in 1893 and a patent for a "breast supporter"
Wonderbra's 1994 billboard featuring Eva Herzigova was voted the most iconic of all time in a poll by Outdoor Media Centre
M&S sold its first bra in 1926 and now sells more than 20 million a year
The world's most expensive bra is the $12.5m (£8.5m) Heavenly Star Bra, by Victoria's Secret, created in 2001 featuring 1,200 Sri Lankan pink sapphires and a 90-carat emerald cut diamond
Eggerue says women should look to her and her "socially unacceptable" boobs for I-don't-give-a-damn inspiration.
"I'm living my best life and my boobs aren't going to stop me ," she says.