GM warns against potential car tariffs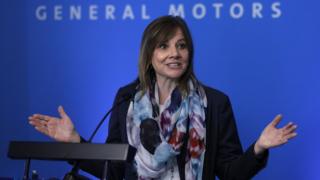 America's largest carmaker has added its voice to the chorus of companies and countries criticising proposed US tariffs on foreign cars and auto parts.
General Motors warned the tariffs "could lead to a smaller GM, a reduced presence at home and abroad and risk less - not more - US jobs."
The remarks were made to the Department of Commerce, which is investigating whether to recommend the tariffs.
President Donald Trump ordered the inquiry in May.
Mr Trump asked the department to determine the effect of imports of cars and car parts on national security. A similar process led to new tariffs on foreign steel and aluminium this spring.
The proposal to put tariffs on foreign cars and car parts in the name of national security has been widely criticised, both in Congress and in the business world.
Opponents say it would disrupt supply chains and increase the cost of cars, leading to a decline in sales and, ultimately, job losses.
"The correlation between a decline in vehicle sales in the United States and the negative impact on our workforce here, which, in turn threatens jobs in the supply base and surrounding communities, cannot be ignored," GM said in comments submitted for the investigation.
GM also warned that the tariffs would hurt investment, undermining the US role in the global industry.
Trade associations for the auto industry, as well as companies that include Toyota, BMW and Volvo also submitted comments in opposition to the tariffs.
The deadline to submit comments was Friday.