Mike Pompeo: Secretary of state nominee denies he is a war hawk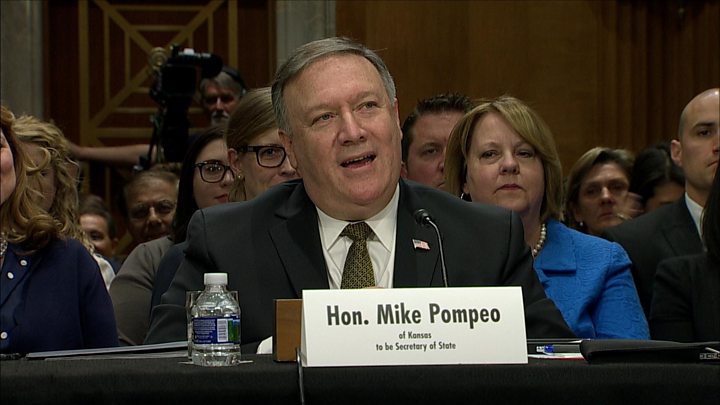 US President Donald Trump's nominee for secretary of state has denied during a confirmation hearing that he is a war hawk.
CIA director Mike Pompeo told the Senate that as America's top diplomat he would always prioritise diplomacy.
But one senator asked whether Mr Pompeo would be a "yes man", catering to the president's "worst instincts".
Seen in Washington as a Trump loyalist, Mr Pompeo has been picked to replace Rex Tillerson, who was fired in March.
The nominee told the Senate Foreign Relations Committee on Thursday: "I know some of you have read, the story is I'm a hawk, I'm a hardliner."
On armed conflict, the former army captain added: "It's the last resort. It must always be so. I intend to work to achieve the president's policies with diplomacy rather by sending our young men and women to war."
A handful of protesters stood up before the hearing began, shouting: "No Pompeo! No more war!"
Mr Pompeo's nomination comes as the Trump administration considers military action in Syria over a suspected poison gas attack.
Senator Bob Menendez, the committee's top Democrat, asked Mr Pompeo: "Will you enable President Trump's worst instincts?"
He added: "Will you stand up to President Trump and say, 'No, you're wrong in that view, Mr President.' Or will you be a yes man?"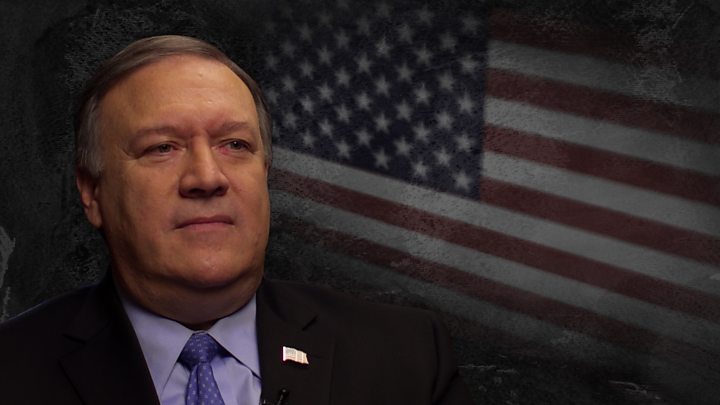 Senator Menendez said Mr Trump was a "commander in chaos" whose "taunts and tweets" could lead the American people to war.
Senator Bob Corker, the Republican chairman of the committee, stressed the US president "must choose his words carefully".
Mr Pompeo refused to disclose to senators "private conversations" he had had with President Trump about the inquiry into alleged Russian meddling in the 2016 US presidential election.
The nominee confirmed he had been interviewed by justice department special counsel Robert Mueller, who is leading the investigation.
Mr Pompeo also told senators he would not resign as secretary of state if Mr Trump were to sack Mr Mueller.
Addressing a number of foreign policy issues, he
Said he wanted to "fix" the Iranian nuclear deal and would work with allies if it could not be fixed
Said there was "more work" to be done on sanctioning Russia and that Moscow had not yet received the message
Denied ever advocating for regime change in North Korea and said he was not doing so now
Said he shared Mr Trump's view that the Paris climate accord placed "an undue burden" on the US
The Senate is widely expected to confirm Mr Pompeo.