Bernie Sanders stirs Texas crowd, is he running for something?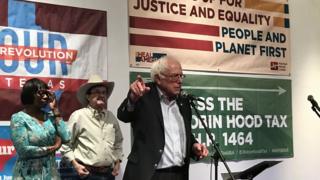 It's like the presidential campaign never ended. And that may be just the way Bernie Sanders, with an eye towards elections to come, wants it.
On a cloudy day in central Texas, the former candidate for the 2016 Democratic nomination - the dishevelled septuagenarian who gave Hillary Clinton a scare in the 2016 primaries and became a progressive political star - was back in top form.
He was interviewed by CNN's Jake Tapper before a packed conference hall at the South by Southwest technology, film and music festival in Austin. He mingled with small-dollar donors at a cafe in San Antonio. He offered his now trademark denunciation of the billionaire class and calls for universal government-provided healthcare, a $15 national minimum wage and free college education to an audience of more than 3,000 at Trinity University.
He boasted that many of the proposals described during his campaign as "radical and extreme" have become mainstream.
"Our ideas are gaining resonance all across the country," he said.
He also mixed in calls for gun control and racial justice - topics he shied away from in 2016. And unlike during that race - when the White House was in Democratic hands - he had a more tangible target to rail against, Donald Trump.
"In Trump we are living in unprecedented times," Mr Sanders said in Austin. "I think we have the least qualified person to be president in the United States - perhaps in the history of the United States. The way we defeat Trump is for every person in this room and all of us to get involved in the political process in a way that we have never done in modern history in this country."
On Saturday Mr Sanders heads to Lubbock, a traditionally conservative town in the northern panhandle of this traditionally conservative state.
"They told me that Lubbock was one of the progressive centres of Texas," Mr Sanders said to laughter in the much more liberal Austin. "They lied to me."
Bernie's mystery tour
In all seriousness, what is the Vermont senator doing anywhere in Texas? Why is he going to Arizona on Sunday? Why was he in Illinois, Wisconsin, Iowa and Michigan earlier this year?
If you ask him, he'll say it's all about the 2018 mid-term elections. He wants Democrats to win enough seats in Congress to take back the US Senate and House of Representatives and put a check on Mr Trump's policy agenda.
To that end, Mr Sanders - and his supporters - have attempted to harness the energy and enthusiasm generated by his presidential campaign into a durable political movement. Our Revolution, with its baby blue and red logo similar to that of the 2016 Sanders campaign, is organising on a grass-roots level across the US and supporting local, state and national candidates in the 2018 mid-terms and beyond.
In the Texas primaries on Tuesday - the first contests of the mid-term season - candidates supported by Our Revolution won or advanced to runoffs in 17 out of 29 races. One, Laura Moser in Houston, did so despite being opposed by a Democratic Party campaign committee - a move Mr Sanders called "absolutely unacceptable".
The Sanders movement flexed its muscles against the political establishment in Texas, and on Friday night in San Antonio, Mr Sanders declared the revolution "alive and well".
Whose revolution?
Of course, such a developed nationwide organisation could, in 2020, also be a turnkey campaign framework for a presidential candidate. Someone who has run before, perhaps. Certainly for someone who espouses progressive values and can win the hearts and minds of the movement.
Someone, say, like Bernie Sanders?
The Vermont senator was coy when an audience member in Austin asked him if he continued to have presidential ambitions.
"Right now, we're a long, long way away from 2020 elections," Mr Sanders said.
In reality, however, it's not that far off. By early 2019 the Democratic field will start to take shape.
Jim Hightower, an author, progressive activist and former state agriculture commissioner who heads the Texas chapter of Our Revolution, is less circumspect.
"I think he probably will run," Hightower says, although he quickly notes that he may not be the only progressive candidate in the field. "There's a whole new dynamic sparked by Bernie's presidential run showing that people respond when something big and different and ethical comes their way."
He adds, however, that Mr Sanders has a connection that's enduring.
"People have faith in him because he is a genuine person," he says. "You know he didn't change his image every day or try to position himself. He says, 'Here's who I am, and here's where I think we ought to be going'."
'The strongest candidate'
At Mr Sanders' two stops in San Antonio on Friday evening, his supporters were ready for their man to make another run for the top prize - even though he'd be 79 years old on election day.
"He looks younger today than he did four years ago," says Danny Fetonte, a retired labour union organiser from Austin who served as a Sanders delegate to the 2016 Democratic National Convention. "I think they'll have a very hard time stopping him."
Jake Stevenson, a 20-year-old student at St Mary's University, said Mr Sanders was the first presidential candidate he voted for and the reason he chose to study political science.
"I still view him as the strongest candidate on the Democratic side," he said.
No regrets
If Mr Sanders does decide to compete in what is sure to be a crowded 2020 Democratic field, his organisation and built-in base of loyal support could give him a formidable advantage, particularly in early voting states. As other candidates scramble to build support, the Vermont senator could post victories even with a small plurality of the vote.
"What does he have to lose?" asks Scott Garrison, a Texas-based campaign veteran and political advertising strategist. "As long as he's okay with the possibility that he doesn't win in the end, he won't have to wonder what might have been. At the very least he could become a kingmaker or have influence on the 2020 policy debate."
At Mr Sanders' first stop in San Antonio, an entrepreneur was selling Bernie Sanders buttons, including one with the senator's trademark hair and glasses and the slogan "hindsight 2020".
For more than a year, some supporters have been whispering "Bernie would have won" against Donald Trump - sometimes with a tinge of bitterness. Now, in buttons and more than just whispers, they are starting to think that perhaps, in the not too distant future, Bernie may get another shot.