Theresa May says Welsh NHS offers 'less good service' than England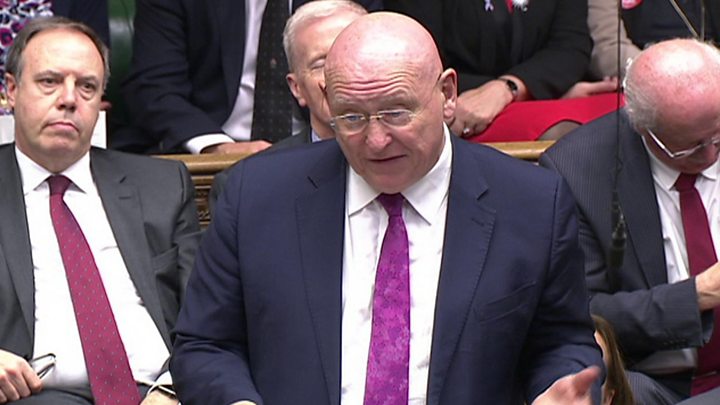 Theresa May has said the Welsh Government needs to "take a hard look" at its record on the NHS.
The prime minister said people living in Wales were often seeing that they got a "less good" service and travelled from Wales to England to get treatment on the NHS in England.
She was responding to a question from the Plaid Cymru MP Hywel Williams.
He criticised "bungling" by the government in Cardiff over the future of vascular services in north Wales.
There are plans for some specialist vascular services in north Wales to be moved to Glan Clwyd Hospital in Bodelwyddan, Denbighshire.
Mr Williams said: "Vascular services in my constituency are to be moved to an as yet untested centre whilst in Bangor we already have a facility with an international reputation.
"Does the prime minister share my concern that due to bungling over health by the Labour government in Cardiff seriously ill Welsh patients will have to travel further and even like the late Irfon Williams have to move to live in England just to access proper treatment?"
Mrs May told the MP she did not know the details of the proposed changes but said he raised an important point.
"People living in Wales are often seeing that they're getting a less good service from Labour government NHS in Wales," she said.
"Oh yes, this is the case, as you say there are people who will travel from Wales to England to get the services available in the NHS in England and the Labour government in Wales needs to take a hard look at what they're doing to the NHS in Wales."
Irfon Williams, from Bangor, died earlier this year from bowel cancer. He had moved to England to access the drug Cetuximab to treat his illness.
Betsi Cadwaladr University Health Board has said the new specialised vascular surgery hub will deal with around a fifth of vascular service patients, with other treatments remaining available at all three general hospitals in north Wales.