Answers on a postcard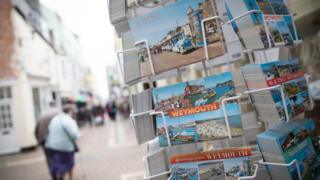 The UK's oldest postcard publisher, J Salmon, has announced it will be closing its doors after almost 140 years. The owners have cited the rise of mobile phones, social media and shorter holidays as contributing factors.
We asked you to send us a picture of the last postcard you received and here are the results.
Sarah Watson, York
"I received this one this weekend. I have a pact with a friend that we always send a postcard. Snail mail is such a pleasure to receive. I love the stamps as much as the cards. I like choosing the cards. They're almost bespoke for who I'm sending them to. I like to send my friend either arty ones or really naff ones. It takes me a while to pick them out.
"It's a really good way of reflecting on what I've enjoyed about my time away. The person I'm sending a card to knows that I've thought about them. It's so different to social media and texting. It's more thoughtful, more planned."
Mari Fleming, Wilmslow
"I received this from Australia this morning. My sister sent it. We were both recently visiting family in Australia together and I sent lots of postcards to the older and younger relatives back home who don't use social media, I think she sent it as a joke to show she could still send them too."
Cheyenne Grewe, Alberta, Canada
Postcrossing is a project that allows people to exchange postcards with strangers from around the world and Cheyenne is one of its members.
"I picked this up from my mailbox on September 23. I received it from another Postcrossing member. I believe the card shows a castle and reservoir near Brno in the Czech Republic.
"The ones that show pictures of actual places are a great, simple way to get a view into another part of the world (and the people who live there) that I will probably never visit. I'm an amateur photographer (focusing on nature shots) so seeing the natural beauty and wonder of our world really interests me.
"Since joining Postcrossing I've also started making my own postcards from the photos I've taken, which is a nice way to combine my hobbies. Postcards don't have a lot of space for the message either so people have to think carefully about what they write - which often makes the message much more meaningful in the end."
Francesca Harrison, Manchester
"I got one this week from my three-year-old nephew Rowan who was on holiday in Spain."
Rachel Robertson, Edinburgh
"I received this postcard from my mum and dad after their holiday to Italy. I received it two weeks after they came home! They had already shared the news contained on the postcard and while they were on holiday on WhatsApp. I think next year I'll tell them to save the money on stamps and have an extra glass of wine instead."
Beverley Mountain, Oxfordshire
"I was on holiday in Cornwall in 1974 and saw a card I liked in a shop. My mum suggested I bought it and started collecting cards. I now have just over 6,000.
"It's like a social history of many places. It's mainly by clothing and vehicles that differences are noticeable. With the increase of social media, I totally understand why sending cards is dying out, but there's something nice about receiving a handwritten card."
By UGC and Social News team