General election: UKIP pledges to tackle radical Islam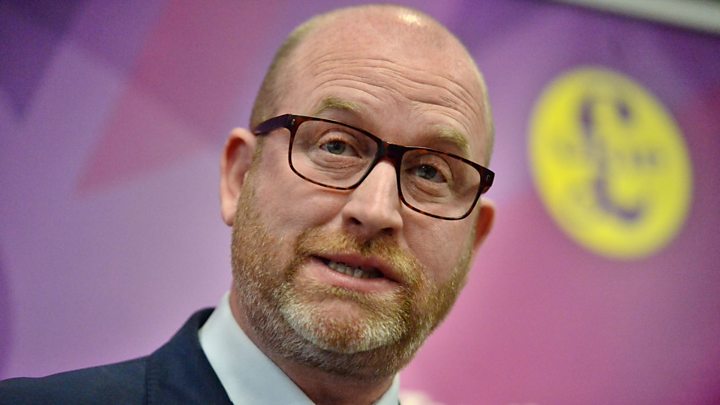 UKIP's Paul Nuttall has described the decision to launch his party's manifesto as a message to terrorists "that they will not win".
Mr Nuttall said there was no magic formula to "turning back the tide of radical Islam" - but he said it was a "cancer that needs to be cut out".
He said other parties had been too cowardly to address the problem.
Deputy chairwoman Suzanne Evans said Theresa May had "some responsibility" to take for the Manchester bombing.
Mr Nuttall said UKIP would beef up security by increasing numbers of police officers, troops and border guards.
The Manchester bombing had proved there was no limit to the "depth to which these evil and warped individuals would stoop", he added.
"It is not good enough to light candles and proclaim that extremists will not beat us. Action is required on multiple fronts and I am proud UKIP is setting out its patriotic agenda for defending our country and our way of life."
However, he stressed the vast majority of the Muslims in the UK were peaceful.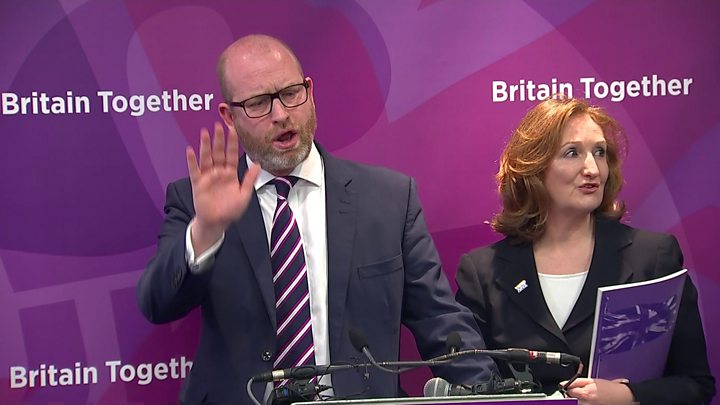 Mr Nuttall said politicians had been weak on tackling the terrorist threat for many years, and attacked Theresa May's record as home secretary - but he denied a suggestion by BBC political editor Laura Kuenssberg that he blamed the prime minister personally for the Manchester attack.
However, Ms Evans, citing Mrs May's failure to curb immigration, the scrapping of stop and search powers and cuts to police numbers, said the prime minister "must bear some responsibility."
Ms Evans said: "I think she must bear some responsibility. All politicians who voted for measures to make cuts bear some responsibility...when 9/11 happened, we should have had a serious rethink about immigration. It didn't happen."
Home Secretary Amber Rudd said: "This is not a time for making political points."
Former Labour Deputy Prime Minister John Prescott accused UKIP of "feeding the fear" of immigrants in the UK.
Mr Nuttall said anybody who left the UK to fight for so-called Islamic State should forfeit their passport and never be allowed to return.
The UKIP leader promised 20,000 extra police officers, 20,000 extra troops, 7,000 extra prison officers and 4,000 extra border guards.
Policies outlined in the UKIP manifesto include:
Reducing net migration to zero within five years
A ban on the wearing of face coverings in public places
An extra £11bn every year for the NHS and social care by 2022
A rise in the threshold for paying income tax to £13,500
A cut in taxes for middle earners
Cut VAT on household bills
End sex education in primary schools
Axe tuition fees for science, technology, engineering, maths and medicine
Provide up to 100,000 new homes for younger people every year
Maintain the triple lock on pensions which sees them rise by rise by the higher of prices, average earnings or 2.5%
A new public holiday on 23 June to mark the anniversary of the EU referendum, known as Independence Day
The unveiling of the manifesto in Westminster comes as some low-key campaigning by other parties restarts after Monday evening's attack.
UKIP is hoping to recover from poor local election results that saw it lose 140 seats and gain only one as it seeks to build a fresh identity following the achievement of its central aim - the vote last year for the UK to leave the EU.
Mr Nuttall told BBC Radio 4's Today programme that UKIP would be "the guard dogs of Brexit" and put pressure on the government during negotiations to leave the EU.
He dismissed criticism of his leadership, saying he was elected to lead UKIP "with the biggest mandate the party has ever given anyone".
Mr Nuttall said UKIP backed a "one in, one out" immigration policy, claiming: "We've got a population problem in this country."
He argued that immigration depressed wages and "is also bad for community cohesion - we're becoming a more divided society than ever before".
---
Some other pledges in the UKIP manifesto:
Re-instate the classic British dark blue passport in two years' time
Give shoppers 30-minutes free parking in town centres and shopping parades
Cut the number of pubs and restrict their trading times to reduce risks for emergency workers having to deal with late-night drunks
Insist on more trees and open space as part of any new builds
Consider charging consumers a deposit for bottled drinks, with the money given back when empties are returned for recycling
---
The UKIP leader said "we're certainly not racist - what we believe in is an immigration policy that is fair to everyone" irrespective of people's ethnicity or religion.
Last month Mr Nuttall sparked controversy over his proposals to outlaw the full-face veil - including criticism from within his own party - but he repeated his support for the policy.
"I wouldn't allow face coverings in public. It's exactly the same as France. It's exactly the same as Belgium, the same as Bulgaria... If you want to enjoy the full fruit of British society, you need to be able to show your face."
The UKIP manifesto spells out that a face covering that hides identity "puts up barriers to communication, limits employment opportunities, hides evidence of domestic abuse, and prevents intake of essential vitamin D from sunlight".
Explaining his decision to be the first party leader to resume campaigning after the Manchester attack, Mr Nuttall said: "We took the decision that the best way to show these people that we will not be beaten, that they will not win, is to to get back into the saddle, to launch the manifesto."
The Conservatives, Labour, Greens and the SNP say they will restart low-key local campaigning on Thursday before resuming national events the next day.