Carrickfergus man Clifford Irons in court on gun charges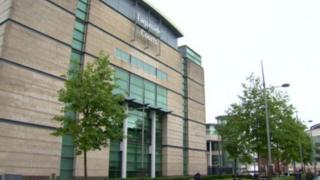 A car salesman from Carrickfergus has appeared in court charged with having two handguns and ammunition with intent to endanger life.
Clifford Irons, 39, is from Castlemara Drive in the town.
A police officer told the court in Belfast that the two guns were found in a car which, he said, the police could link to Mr Irons.
The police officer said the case was linked to a feud involving the UDA in east Antrim.
He told the court that Mr Irons was "heavily involved in this".
The officer said the guns were loaded and a bullet in one of them was "doctored" to have more effect.
The police officer also said that during a search of a house, they found a bag of balaclavas and gloves along with a notebook of "things to do".
A solicitor for Mr Irons challenged how the police could link the defendant to the guns.
He claimed that there was nothing to directly connect Mr Irons to the car where the guns were uncovered.
The judge remanded Mr Irons in custody, to appear in court again on 19 December.