Police Ombudsman clears PSNI over CS spray use on young people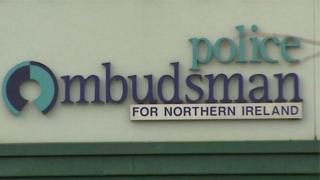 Police were justified in using CS spray against young people in three separate incidents including at a children's home in County Down, the Police Ombudsman has said.
The incidents happened between May 2015 and February this year.
All uses of CS spray against those 18 and under are referred by the police to the ombudsman, Dr Michael Maguire.
He said that the officers were properly trained and their actions had been "lawful, necessary and proportionate".
In May 2015, a 17-year-old was sprayed in Ballymena, County Antrim, when he tried to enter a house where police were recovering property after a reported burglary.
Warnings
The ombudsman said that police reported the boy came towards an officer "with his fists clenched and ignored several warnings before being sprayed".
The spray was used again in January at a County Down children's home when police responded to a report of two young people causing damage.
Staff told the officers that a 15-year-old and 17-year-old had smashed an alarm system, broken glass doors, destroyed furniture and flooded a corridor before using a wardrobe to barricade themselves in a room with three other residents.
Officers told the ombudsman that one of the boys swiped at him with a metal bar when he tried to enter the room and that they issued warnings to the pair before using the spray.
In February, a 17-year-old boy was sprayed in Londonderry after he was detained by a member of the public after breaking a shop window.
Police said the boy had become violent when they tried to detain him.