Hillsborough Castle: Skeleton which could be 1,000 years old found in grounds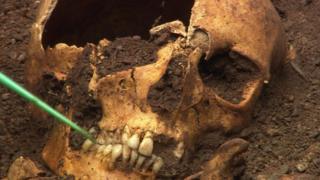 A well-preserved human skeleton which could be 1,000 years old has been uncovered in the grounds of Hillsborough Castle in County Down.
Archaeologists found it during excavation work ahead of a major redevelopment project.
The human remains are thought to be that of a young woman.
They will be removed for further tests that will confirm the gender and age.
Other remains on the site, which is thought to be a burial ground, will be left undisturbed.
Archaeologists are also hoping to find the walls of a medieval church on the site.
'Stories'
Jonathan Barkley from Northern Archaeology Consultancy Ltd said a well-preserved skeleton of this age was an unusual find in Northern Ireland.
"We arrived hoping to find the remains of a 15th or 16th Century church, but about two hours into our first day we uncovered a skeleton," he said.
"While it was initially believed to belong to the church we are now thinking it may be about 1,000 years old, so several hundred years earlier."
Historic Royal Palaces (HRP), which runs the estate, has also enlisted the help of volunteers for the dig.
Rosanagh Fuller from HRP said the history that has been uncovered will help tell the story of the site in a new visitors centre which is due to open in 2019.
"It's absolutely fantastic for our stories and for the local community in Hillsborough," she said.
"Where there is a church, there's a burial site and there could be a settlement here.
"We are talking a very long time ago, pre written records.
"It's really exciting to find out more about the Hillsborough village before it was, as we know it, in the Georgian style today."