Ballymena, County Antrim: Farm machinery worth up to £60,000 is stolen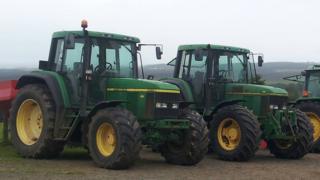 A reward has been offered after machinery worth tens of thousands of pounds was stolen from a County Antrim farm.
Two tractors and a low loader were taken from land at Woodside Road, Ballymena.
The McDonnell family, which owns the farm, reckons the equipment was worth up to £60,000.
But they say the replacement cost could be more than twice that and the insurance might not cover it.
Son Colm McDonnell said the family was now relying on neighbours for equipment to keep their beef and sheep business going.
The burglary is the latest in a series of farm thefts that cost £2.7m in Northern Ireland last year - a rise of 13%.
The figures are part of a survey by insurance company NFU Mutual which records the cost of farm thefts across the UK.
According to their Rural Crime Report more than £42m worth of equipment and livestock were stolen in the UK last year.
The items taken most often included quads, livestock and tractors.
'Continual battle'
Mr McDonnell said the tractors taken from a field at an outlying property were "essential to the running of the farm".
He described the theft as "galling". The family is offering £1,000 for information leading to the recovery of the machinery.
Martin Malone, NFU Mutual Regional Manager for Northern Ireland, said he was concerned that rural crime in Northern Ireland had "risen steeply - particularly at a time when it has fallen in other parts of the UK".
"Thieves don't go away; if you improve security in one area they will step back, and seek a way to bypass your security measures - or find something else they can steal from farms," he said.
"Unfortunately, this means farmers and country people face a continual battle to stay one step ahead."
Police say the theft happened between 15:00 BST on Sunday and 07:30 BST on Monday.
It is believed the thieves made off in the direction of Kells.