Third attack on Orange hall in three months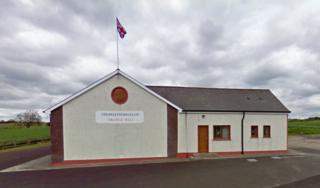 An Orange hall in County Tyrone has been attacked for the third time in less than three months.
A number of windows were smashed at Strawletterdallon Orange Hall, near Newtownstewart.
The attack is believed to have happened in the early hours of Wednesday. Police are treating it as a hate crime.
The hall, on Plumbridge Road, was targeted twice in February. In a statement, the Orange Order condemned the latest incident.
It described it as an assault on community groups around Newtownstewart that use the hall as a social facility.
"Once again, Strawletterdallon has been attacked by vandals who have nothing to offer society, only destruction and division," it said.
"These intolerant bigots believe they are damaging the Orange Institution by destroying its property.
"Their actions are futile and are not representative of the local community who will quite rightly be appalled at this latest attack."