Martin McGuinness claims government reluctant to break legacy deadlock before election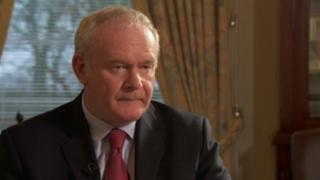 Deputy First Minister Martin McGuinness has said he believes the British government is reluctant to move to break the deadlock on legacy issues until after May's assembly election.
Mr McGuinness was talking to BBC NI's The View.
He said he believed the government was "not keen" to resolve the matter until after the vote.
The Fresh Start Agreement failed to resolve legacy issues arising from Northern Ireland's Troubles.
Mr McGuinness said he was making his assessment following discussions with Northern Ireland Secretary Theresa Villiers.
"It was clear to me that the British government were not keen to resolve this situation prior to the Assembly elections, so I think probably Arlene Foster (Northern Ireland First Minister) is taking her lead from where she believes the British government to be at," he said.
He said that "preparatory work needs to be done between now and the elections, so that we are not after the election facing the public with this prospect that there will be more talks".
"This needs to be resolved immediately after the Assembly elections," he added.
In a statement, a Northern Ireland Office (NIO) spokesperson said "no UK government had done more to find a way forward to address the legacy of Northern Ireland's past".
"We are closer than ever before to a resolution but it needs commitment from all sides," the spokesperson added.
"There is a manifesto commitment to delivering the new legacy bodies as set out in the Stormont House Agreement and the government has disclosed hundreds of thousands of documents together with the security forces - one of the largest disclosure exercises in history.
"We are also prepared to accept when wrongdoing took place and to apologise for it. In these matters the government is far more open than the paramilitary groups that operated during the Troubles who were also responsible for the great majority of deaths and injury."
The NIO spokesperson said Ms Villiers would continue with "intensive efforts to work with the Executive, Northern Ireland's parties and victims' representatives to make progress".