'I met my wife on Friends Reunited'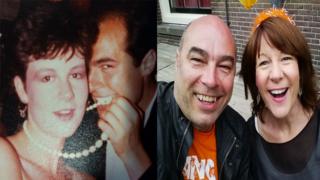 One of the UK's first social networks, Friends Reunited, is due to close.
Steve Pankhurst, a founder of the website, said the platform was still used by "a handful of members" but that it was "no longer used for the purpose it was built for".
The term "Friends Reunited" has been among the top trending topics in the UK on Twitter.
Here, people who have been Friends Reunited users share their stories on how the website has affected their lives.
---
Emma Hetherington [pictured above with husband John] said it was a "sad day" for Friends Reunited.
"It was thanks to this early social media platform that my husband John and I saw each other again, 18 years after we'd split up in our early 20s," she said. "Over that time he'd married, had two kids and was in the process of divorcing. I had been widowed for five years with a young daughter.
"John looked me up on Friends Reunited in 2002 and got in touch. We've been together ever since and married in 2014 in Cuba."
---
On Facebook, Rachel Hughes recounts being found on Friends Reunited by an old boyfriend:
---
@neil_taylor_ tweeted about meeting his wife on the site:
---
As did @seanymogs:
---
I have to thank Friends Reunited for putting me back in touch with my best friend from school, who I hadn't seen for 50 years. I had lost touch with all my friends from boarding school as I had a very unhappy time during my school years and when I left I wanted to put it all behind me and start a new life. Fortunately for me, my friends hadn't forgotten me, and had tried for a long time to find me. When my best friend eventually found me and we met again it was one of the happiest times of my life. Everything just fell back into place and it was as though we had never been apart, and even after all those years we just took up where we left off. It was for both of us one of the best things that could have happened to us. Catherine, Middlesex, UK
---
---
I shall forever be grateful to Friends Reunited which enabled me to connect again with my old school chum and best friend after 40 years. He left our locality suddenly, and for personal reasons, to work elsewhere when we were both around 20 years of age. For years I wondered what happened to him. We both married and had children. He sadly lost his first wife but later remarried. Then, inexplicably, just a few years ago (over 40 years later for each of us), and within two weeks of each other, we searched for each other on Friends Reunited. Hey presto, we connected. So thank you, Friends Reunited, for the great service you have provided to the public and to us in particular. Barry Baines
---
Sam Dawson on Facebook says she was reunited with a school friend who later became her partner:
---
@SallyHever tweets her sadness of the site's closure:
---
I met my spouse via Friends Reunited in a tale of love lost and found. She was a former girlfriend from university days in the mid 1990s. In 2002 I emailed a mutual friend from my university days, living in France, to say hi and to snoop on my former girlfriend! She put me in touch with another university friend, living in Cambridge and working 100 yards from my own office! We reformed a friendship that still endures and at her 30th birthday party in 2004, I saw an ex-girlfriend who was in the throes of a divorce! Three months later she came to London for the weekend. We are now married for almost nine years with two children, and it's all because of Friends Reunited. All I can say is THANK YOU (for the friends and the lovers!), and sorry to investors who lost out. Tom Cobbold, Saffron Walden
Compiled by Andree Massiah