Modi Mania or madness? Your reaction to UK visit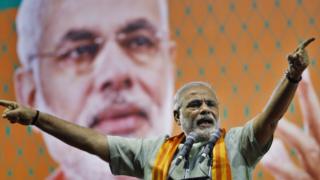 Indian Prime Minister Narendra Modi has received a warm 'namaste' from supporters of the politician as he visits Britain.
The leader of one of the fastest growing economies in the world will lunch with the Queen followed by a superstar appearance on Friday at Wembley stadium where he will be joined by David Cameron.
His visit has sparked a debate on social media from those who love and loathe him in equal measure. We've been looking at some of your reactions to his visit.
Getting ready for Wembley
Shivendra Singh, Redhill, Surrey is looking forward to tomorrow's big event at Wembley Stadium. Shivendra tells us:
"I am extremely excited and happy about Mr. Modi coming to Britain and especially because I have got the chance to see him and listen to his inspiring speech at Wembley. He is one of the most iconic and loved leaders in a long time which India has seen. We all wish him great luck in taking India forward and help all the other countries in the process."
Twitter in numbers
Between midnight and midday on Thursday 12 November, there have been 37,112 tweets using #ModiInUK which is the most popular hashtag. And the total number of tweets with Modi-related hashtags is 46,297 (Source: Spredfast).
Mr Modi and Mr Cameron at the press conference
More charismatic than Michael Jackson
Amitabh Lall emailed the BBC "Welcome Mr Modi. You have your supporters all over the world who appreciate the good work you have been doing all over the world and not just in India. I look forward to some landmark steps and deals that will benefit both the UK and India."
2002 religious riots
Narendra Modi is also is accused of doing little to stop the 2002 religious riots when more than 1,000 people, mostly Muslims, were killed - allegations he has consistently denied.
Mr Modi became an international pariah after the riots - the US denied him visas and the UK cut off all ties with him. But a decade later, the controversial politician has been reintegrated into the political mainstream.
Ramesh Patel emailed "Many of us are extremely disappointed with this visit. Mr Modi is an extremist. He should not be granted the acclaim that Mr Cameron is giving this man. Modi does not believe in the core British values that Cameron has been bleating about. Modi is an extremist who will pose a great danger to the world if he is not stopped.