New militant group Khorasan creates mystery and fear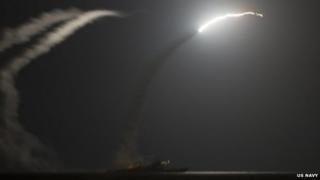 The US has fired missiles at what officials have described as a new militant group, Khorasan, in Syria. The Pentagon says its strikes were successful, though the attacks may have inadvertently added to the militants' power.
The threat from the Khorasan Group of al-Qaeda fighters in Syria was "imminent", Pentagon spokesman Rear Adm John Kirby said in a statement. Until recently few people had heard of Khorasan, which apparently consists of about 50 militants from Afghanistan, Pakistan and other countries.
US officials seem to have come up with the term Khorasan on their own. It may be a reference to a historical region of Iran, Turkmenistan and Afghanistan, writes Adam Taylor in the Washington Post.
"A term of convenience," said University of Texas School of Law's Robert Chesney, who worked for the justice department in 2009. He spoke about the group on Thursday on a panel at the Heritage Foundation in Washington about the legal foundation for military action against Islamic State militants.
Like others in Washington, Mr Chesney thinks the name may have been coined by someone in the intelligence community. Wherever it came from, the name seems odd - not only for people in the US.
"This is not a name they would recognise," said Richard Barrett, a former British intelligence officer now working for the Soufan Group, security consultants in New York, referring to the militants.
If Americans did create the name for the organisation, it wouldn't be the first time. They apparently came up with the term "al-Qaeda Central", said the Brookings Institution's William McCants. Osama Bin Laden heard journalists using the phrase, said Mr McCants, and liked it, as letters at his compound in Abbottabad, Pakistan, showed.
Members of the Khorasan Group reportedly joined up with al-Nusra Front, al-Qaeda's affiliate in Syria. In contrast with members of al-Nusra Front, however, these militants have ambitions beyond the region.
Al-Qaeda's leader Ayman al-Zawahiri apparently sent them to Syria to "develop external attacks, construct and test improvised explosive devices and recruit Westerners to conduct operations", according to a Pentagon statement.
The Pentagon said they were "in the final stages of plans to execute major attacks".
Plots against US
US officials are naturally more concerned about militants who want to kill Americans, such as those in the Khorasan Group, than about the militants who are focusing only on Syria. This may explain why the first missile strike this week hit the Khorasan Group.
Yet not everyone is buying this story. Some say, for example, the Khorasan operatives are a threat, but not an immediate one. "They aren't buying airplane tickets," said Marc Sageman, a former CIA case officer and author of Leaderless Jihad.
Others wonder about the manner in which US officials this week presented an account of the group. "Suddenly it is created," said Ahmad Beetar, a translator and researcher who worked as a journalist in Syria from 2008-13, "and it is destroyed. How come people in the Middle East have never heard of them?"
Jomana Qaddour, a senior associate with Caerus Associates, a strategy and research group, said she has asked the same question. She is a Syrian-American who is originally from Homs, and she keeps in touch with a network of people through Skype, Facebook and other means.
She said some people believe the militants are simply part of al-Nusra Front, rather than a separate organisation.
"They're sort of the hidden hand of Nusra Front, conducting specific assassinations," she said, describing what she has heard about the group. In contrast, US officials see these militants as separate from al-Nusra Front.
She believes the Americans may have drawn this distinction between the two groups because al-Nusra Front, while treated by US officials as a terrorist organisation, nevertheless has support among other rebel fighters.
Regardless of the group's name, though, the militants sound fearsome - and make the week seem scary for Americans. Yet experts say there's nothing startling about the revelations - or the operatives themselves.
They are part of the old guard, said Mr Sageman, and have been around for years. The attention from US officials and the media could inadvertently give them a boost.
"They get more street cred," he said. "If America is your enemy, you're a big guy."
Follow Tara McKelveyon Twitter.