Fight over legroom diverts a second US flight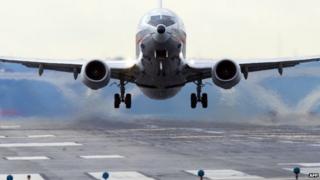 A US flight bound for Europe has been diverted after a mid-air fight broke out between passengers over legroom - the second such incident in a week.
The American Airlines flight from Miami to Paris was forced to land in Boston on Wednesday, after a male passenger argued with a woman who reclined her seat in front of him.
Air marshalls who were travelling on the plane intervened to stop the fight.
Edmund Alexandre, a 61-year-old from Paris, was arrested in Boston.
He has been charged with interfering with the crew on the flight.
Knee defender
Mr Alexandre was reported to have become upset when the female passenger tried to recline her seat, according to a statement released by prosecutors.
When a member of the flight crew tried to calm Mr Alexandre down, he is said to have become more angry and grabbed the man's arm.
The fight follows a similar incident on Sunday, which forced a United Airlines flight from Newark to Denver to divert to Chicago.
A heated argument broke out between a male and female passenger when the man attempted to use a Knee-Defender - a device which prevents the person travelling in front from reclining the seat.
The woman sitting in front of him reacted by standing up, turning around and throwing a cup of water at him.
Police investigated the incident but said it was a customer service issue.