Third time lucky for French President Francois Hollande?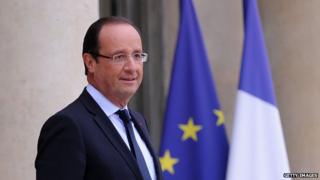 French President Francois Hollande has reshuffled his government with a more reform-minded economy minister.
In Talking Business this week, I reviewed some of the big debates, including France's ambitious reform programme.
When I interviewed him in Davos in January, the French economy minister at the time, Pierre Moscovici, was insistent that France would not turn "German".
He said the nation could preserve the French way of working, while adopting reforms that were significant enough to overhaul the economy.
It would be similar in some ways to what Germany did when it shed its label as the "sick man of Europe" from the 1990s.
Eight months is a long time in politics. Since then, he has been replaced by Arnaud Montebourg, who was himself replaced this week after opposing President Francois Hollande's plans.
Emmanuel Macron is the third economy and industry minister during Mr Hollande's term that began just two years ago.
Mr Macron, an adviser to Mr Hollande from the days of his presidential campaign, is more in line with the president's plans.
Announced in January, the reforms focus on supply-side changes that aim to transform France's economy, similar to what Germany did when it turned around its economic system.
No doubt, France has challenges. Though in absolute terms, while French productivity is holding up, it has experienced slowing productivity growth over the past few decades.
In other words, the competitiveness trend is worrying. And it's certainly not helped by high unit labour costs.
Mr Moscovici told me that average wages are lower than in Germany, but that other costs to the employer led the overall amount to be higher and thus less competitive than its neighbour.
Germany, too, had high unit labour costs, which it restrained during the 2000s in order to be competitive.
For France, unit labour costs could fall if taxes on employers came down.
Mr Hollande has pledged tax cuts to bring down labour charges for business as part of his supply-side reforms.
A large tax burden funds a large state.
French government spending is the highest in the euro zone, at more than 55% of gross domestic product (GDP).
Unsurprisingly, it has a high tax burden where tax revenues account for around 45% of GDP - and there's that 75% tax rate on high earners.
Mr Hollande also plans to cut government spending and has asked for flexibility to do so - a not-unexpected move, given the political fall-out from his policies and his low level of popular support.
What was also striking in that conversation was that Mr Moscovici didn't agree with German Chancellor Angela Merkel that the EU social model was challenging to sustain.
Merkel had said that Europe accounts for 7% of the world's population, 25% of global GDP, but 50% of the world's social spending.
High social spending and competitive labour costs are an odd couple to say the least.
Of course, France now has an economy minister who is more aligned to Hollande, so the French president may now have a team to push through his agenda.
But, Moscovici has just become France's representative on the European Commission and some of these reforms require European-wide agreement.
There are certainly different sides of the debate for France, and it seems that the outcome is far from settled.