Game of Thrones closes public beach in Portstewart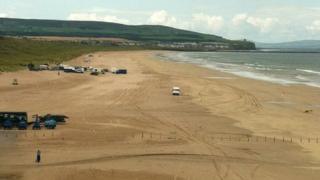 One of Northern Ireland's most popular public beaches has been closed because it is being used as a filming location for the US TV show, Game of Thrones.
Portstewart Strand, County Londonderry, has been completely closed for the last two days while the production crew shot scenes for the hit show's next series.
The 48-hour closure ends on Thursday.
The HBO show has become a major part of Northern Ireland's film industry and many of its locations have become visitor attractions for its fans.
Portstewart Strand is a well-established tourist attraction in its own right, and is promoted as "one of Northern Ireland's finest beaches".
The beach was completely closed on Wednesday and Thursday, but the public were advised that some restrictions could be in place for a week, from 4 to 11 August.
The two-mile stretch of sand is managed by the National Trust.
It described the week-long restrictions imposed on residents and holiday makers, during the busy summer season, as a "short-term inconvenience" and said it would bring economic benefits to the town.
Portstewart businesswoman Barbara Dempsey is among local traders who supported the beach closure.
"You couldn't buy that kind of positive publicity and marketing - of global coverage of Portstewart at its best," she told BBC Radio Ulster's Talkback programme.
"It's not Portstewart which benefits from this, it's all of Northern Ireland."
The success of Game of Thrones and the boost it has given to Northern Ireland's filming and tourism industries has been repeatedly lauded by local politicians.
In June, the production was given the royal seal of approval when the Queen and the Duke of Edinburgh met cast and crew members during a visit to its film set in Belfast.
In a statement, the spokesperson for the National Trust said: "As well as showcasing this amazing beach to people on a world stage, filming brings a number of economic benefits to the local town with many crew members spending time and money in the local economy.
"To facilitate this opportunity, there will be some short term inconvenience to visitors who wish to access the beach between 4 and 11 August, however the site will be fully reopened by 12 August.
"On the 6 and 7 August there will be no public access. We hope our visitors understand the reasons for this temporary closure and we are sure they will appreciate the longer term benefits to the area."