Gaza conflict: 'I'm not afraid of being killed'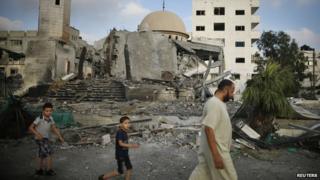 Following a fortnight of conflict between Israel and Palestinian militant group Hamas, United Nations General Secretary Ban Ki-moon has called for a diplomatic solution.
More than 600 Palestinians in Gaza and 30 Israelis have died.
Residents in Gaza and Israel share their thoughts.
Anfal Almussadder, Zawaida, Gaza
The situation here is very frustrating. We are being shelled by Israeli soldiers from left, right and centre. I actually don't know what to do.
I left my area, Musaddar, and I'm now in a village called Zawaida.
After what we saw in Shejaiya, where dozens of Palestinians were killed in an overnight attack, we decided to move. I, along with my mother and brothers, fled our village.
The village will definitely come under attack. I'm not happy. I'm scared. I don't know what to say.
Doron Youngerwood, Modiin, Israel
It's been quiet the past few days; there was a siren earlier today. The past couple of weeks have been quite frightening.
The ground invasion is not something we wanted. The whole war is not something we wanted. There have been three agreements to a ceasefire, but three times Hamas has kept firing rockets.
Having lived in Israel for the past five years, I have seen first-hand the impact that on-going terrorism has had on the country.
Hamas consistently and intentionally uses the people of Gaza as human shields and deliberately locates rockets in populated areas, inside houses, mosques, hospitals and schools.
Mohammed Soliman, central Gaza
In the last few days I was woken from sleep almost every hour because of the sound of shelling by Israeli forces. They have been dropping bombs everywhere.
They asked our neighbour to evacuate to our place, saying where we are is safer. But the truth is that we are not safe.
Eight people were killed in an apartment near ours, called Addawur Tawar, six of them were children.
The Israeli army has threatened many households around us saying that they are coming to bomb them.
I'm not afraid of being killed. I'm just not happy that their bombs miss their targets.
It is very dangerous to walk around here. Yesterday I went to the market to get food but on my way I had to escape many bombs.
This is a very difficult moment for us. We have no electricity and no water.
What is going in Gaza is not actually targeting Hamas, it is an attack on innocent people.
We are supporting Hamas and the attacks are making us stronger.
Vicki Myers, Tel Aviv, Israel
Nobody wanted this to happen. I was reluctant to see soldiers go in to Gaza because this would increase the death toll.
The government is doing the best they can. They're trying to minimise casualties. They're left with no options.
In Tel Aviv we are fortunate, we have 90 seconds to take cover thanks to the early warning system, while in the southern towns they have just 15-30 seconds to save their lives.
The rockets have hit numerous houses, doctor's surgeries, nurseries, schools and cars, and have killed and injured people including children and babies - we are lucky not to have had more casualties.
Many children, especially those in the south, are traumatised by on-going rocket attacks over the last nine years. You see it being incorporated into their play.
There is a great sadness and tension in the air. Beyond the rocket attacks, many of my friends and colleagues now have sons, husbands and brothers enlisted and on the ground in Gaza and are worried sick about them.
Most Israelis I know feel sorry for the ordinary people of Gaza and believe they are being exploited by Hamas. It is painful to see the death toll rise and to know that all this will doubtless solve nothing.
Interviews by Nasidi Yahaya and Richard Irvine-Brown