What does D-Day really mean to the mix of people in Normandy?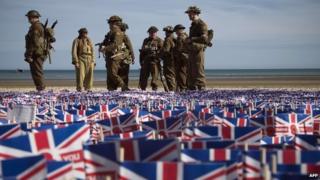 There are many commemorations of D-Day going on, from official to public, or those of the veterans themselves, and the scale of it all is perplexing.
These events have drawn hundreds of thousands of people to the Normandy beaches, all outwardly here for the same reason, but actually taking away very different things.
The leaders have flown in to draw political lessons, seeking to define D-Day in their own ideological terms.
President Obama, speaking in a war cemetery that is the last resting place for nearly 10,000 soldiers, spoke of a sacrifice in the service of "our commitment to liberty, to equality, to freedom, to the inherent dignity of every human being".
Triumphalism avoided
Projecting Normandy as a victory of universal political values has created a sufficiently broad message that former enemies (the Germans) and current adversaries (Ukraine and Russia) can all embrace it.
It avoids triumphalism or any glorification of war, and eschews wartime language about "the Hun" or the "Boche".
I am in Bayeux and asked Major General James Cowan, one of the senior British officers attending the celebrations, how they "messaged" the official ceremony.
He said "the defeat was the defeat of tyranny - we don't need to talk about the Allies and the Germans".
Official events though, while bringing thousands of troops, police and security men into the area, hardly connect with the experience of the holidaymakers and enthusiasts who also seem to be here in huge numbers.
There are historical re-enactors from all corners of Europe - often not representing their own nation's troops.
We have met "British" Paras, who turned out to be Italian, "Canadian" troops who were actually Czech, and even the odd German whose weekend hobby is being an American GI.
One Frenchman had carried his depiction of an American paratrooper to the extent of getting the distinctive Mohican haircut that some adopted 70 years ago.
He told us he was here "to honour those who sacrificed their lives for us".
Tourism boost
The re-enactors pose for photos, add to the atmosphere, but undoubtedly come for their own enjoyment.
The same is true of the drivers of hundreds of restored military vehicles that roar around the narrow Norman lanes.
Making it happen consumes many a weekend spent tinkering under the bonnet of a Willys Jeep or a Mack truck, and plenty of hard-earned cash too.
Many of the enthusiasts visit every year, as do the busloads of curious holidaymakers, and all of it adds a considerable boost to the tourist economy.
The landing beaches are taking on the quality of a living history theme park, and in the centre of the medieval city of Bayeux, almost every shop features D-Day window displays.
As for the veterans themselves, they are small in number but have a completely disproportionate effect in dignifying everybody else's commemoration.
There were reckoned to be fewer than 500 British here this year, and coming from a modest generation that bore its suffering with great stoicism, they often react shyly to this limelight.
Many others of course do not come here at all.
Off message
Some of the veterans I know cite ill health, others say that they wish to remember these events privately or do not wish to be seen celebrating a battle that killed or wounded hundreds of thousands.
Those who do attend though are sometimes distinctly off message in their attitude to their former foes or in discussing the necessity of bombarding some of the French towns in Normandy.
However, they do seem to be united about the importance of remembrance.
Les Reeves, 89, who drove one of the first tanks ashore on Sword Beach, told us that he would keep coming back, "as long as I have the strength".
Fintan Christopher Donohoe, who fought ashore with the 2nd Royal Ulster Rifles, said that he had never wanted to talk about the war much, but felt it important to do so now, lest young men get the idea that war is a great adventure.
Little by little though that authentic testimony and the memory of the vicious fighting through Normandy's hedgerows is ebbing, becoming less audible in the mix.
And in its place, the political messages, the hobbyists, and the tour buses are defining their own D-Day.