@HiddenCash: Mystery benefactor Twitter clues lead to money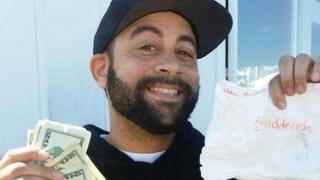 A mystery benefactor has been leading social media users on a treasure hunt for hidden money in the US cities of San Francisco and San Jose.
A man using the Twitter handle @HiddenCash has apparently given away a total of $5,000 (£3,000) in what he calls a "social experiment for good".
Twitter users have been following his hints to find notes worth $100 in white envelopes.
Many of the winners have gone on to share their findings with others.
'Truly refreshing'
In an interview with Time magazine, the anonymous donor said he had made his fortune from property deals and set out to "put smiles on people's faces" by giving a bit back to those less well off.
Money has been found in locations such as under chairs and inside phone boxes.
Miles Tokatz, 33, found $100 in San Francisco shortly after hearing about the treasure hunt in a bar.
"I was picking my girlfriend up from work. I checked Twitter and it turned out the clue he left was a place I was just a few blocks away," he told the BBC, adding that he spent most of the money on drinks with his friends and "fancy cheeses".
He added: "I hope more people start taking on this sort of spirit - with all the drama in the world, something that's truly fun is refreshing."
Some critics have questioned the motives of the giveaways and suggested the money could be better spent.
In response, the donor posted on Twitter: "Because people asked, just want to say that @Hiddencash is NOT instead of charity. We support many charities too. This is for fun."
The account has more than 119,000 followers and it said new drop-offs would take place San Jose, California, on Wednesday.
Further giveaways are also promised in Los Angeles next week and New York.