Scottish independence: Lib Dems 'guarantors' of more powers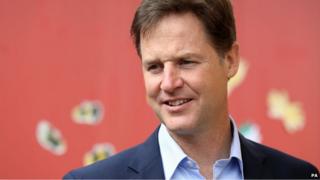 The Liberal Democrats will "act as the guarantors" of more powers for Holyrood if Scotland rejects independence, according to their leader Nick Clegg.
The deputy prime minister wants Scotland to raise half the money it spends, setting its own rate of income, capital gains and inheritance tax.
In a speech in Edinburgh, he called for the devolution debate to "come out of the shadows".
The SNP said similar promises had been broken in the past.
At an event hosted by the Scottish Chambers of Commerce, Mr Clegg said a "No" vote in the independence referendum was a "positive choice".
He conceded that the transfer of more powers would be subject to negotiation between the three main pro-UK parties but said his party had been at the forefront in arguing for greater devolution.
He accused the SNP, in power in Holyrood, of failing to deploy powers already available and challenged the party to be "part of the conversation over Scotland's future".
'More powers'
He told his audience: "More powers will come.
"But it is no surprise that my party was first out the blocks or that we will act as the guarantors for a far-reaching deal.
"Devolution is in our instincts - just as it is in the interests of people in Scotland."
Under the Scotland Act 2012, the Scottish Parliament is due to raise 30% of its income from 2016.
Mr Clegg said: "Under our proposals we raise that level up to over 50%.
"Income tax paid on earnings by Scottish taxpayers should be the responsibility of the Scottish Parliament with the rates and bands determined here in Scotland.
"So should capital gains tax. And inheritance tax too. Why should these be the reserve of the UK Parliament only?
"If people in Scotland want to further cut the income tax burden on middle-income earners, that should be a choice for them.
"If they want to raise it in order to take less from lower earners, again they should be free to do so."
The Liberal Democrats' plans for further devolution are based on proposals by former leader Sir Menzies Campbell's Home Rule Commission.
'Wealthy country'
SNP MSP Annabelle Ewing said: "Given that Mr Clegg's party have been promising Home Rule for over a hundred years, people in Scotland are unlikely to view them as the guarantors of anything - except continued Conservative rule from Westminster.
"Let's not forget that, as recently as 2011 the Lib Dems had the chance to beef up the Scotland Bill with a raft of new economic powers that they had previously supported - but they reneged on their previous commitments.
"With such a track record, it is little wonder that the Lib Dems are currently fighting it out for sixth place in the European elections in Scotland.
"Scotland is an immensely wealthy country, richer per head than the UK, France, Italy and Japan - but a 'Yes' vote in September is the only way to guarantee that Scotland gets the vital job-creating powers it needs to build a fairer, more prosperous society."