Alan Gross pleads for personal Obama intervention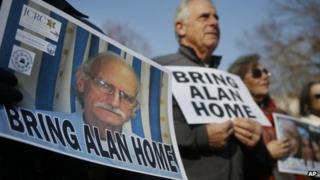 A US man imprisoned in Cuba has asked President Barack Obama to intervene personally to help win his release.
On the fourth anniversary of his arrest, Alan Gross, 64, wrote to Mr Obama to say he feared the US government had "abandoned" him.
Gross was setting up internet access for Cuba's small Jewish community on behalf of a US government aid agency. He was sentenced to 15 years in prison.
The White House has publicly called for Gross' unconditional release.
On Tuesday, White House press secretary Jay Carney told reporters he was unsure whether Mr Obama had read Gross' letter but said the US president had "personally engaged foreign leaders and other international figures to use their influence with Cuba to promote Mr Gross's release".
His detention has been a sticking point in otherwise thawing relations between the two countries, which broke off diplomatic relations in 1961 after Cuba aligned with the Soviet Union.
Gross was working for a firm under contract with the US Agency for International Development (USAID) at the time of his arrest.
Cuba's government considers the development agency's work a way for the US to undermine the island nation's communist government.
'Isolated'
In his letter to Mr Obama, released on a website maintained by his family, he wrote he has "lost almost everything" over the past four years and that his family has "suffered tremendously".
"It is clear to me, Mr President, that only with your personal involvement can my release be secured," he wrote.
Gross said he is kept in a tiny cell with two other men for 23 hours a day and he sleeps little between untreated arthritis and lights that are never turned off.
"With the exception of a few phone calls and visits, I am completely isolated from the outside world," Gross wrote. He said he had asked his adult daughters to not visit him.
"With the utmost respect, Mr President, I fear that my government - the very government I was serving when I began this nightmare - has abandoned me. Officials in your administration have expressed sympathy and called for my unconditional release, and I very much appreciate that. But it has not brought me home."
Gross has previously sued the firm he was working for, Development Alternatives Inc, and the US government for "failing to take adequate measures" to train and protect him during his travels to Cuba.