Harland and Wolff refits oil rig from Brazil in Belfast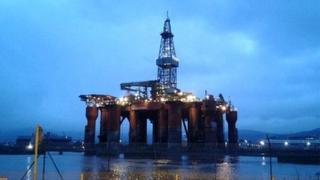 A giant oil rig from Brazil has docked in Belfast for a refit at the city's dockyard.
The voyage from South America to east Belfast took more than three months as the drilling platform had to be towed at slow speed.
The 360ft-high rig - the Blackford Dolphin - is undergoing a multi-million-pound refurbishment in advance of a drilling project in the North Sea.
The work is being carried out by the engineering firm Harland and Wolff, close to where the Titanic was built a century ago.
About 600 additional workers have been hired for the 60-day refit operation.
Work will continue around the clock over the Christmas period.
The tree-shaped rig is lit up with a variety of bright lights and dockers have dubbed it Belfast's unofficial Christmas tree.
There is a race against time to complete the job on schedule, as the oil rig is due to be back in action early in the new year.
There is speculation that if the project goes well, it could mean up to three more oil rig contracts coming to Belfast in the near future.
The offshore exploration and drill platform is too big to fit beneath the famous yellow cranes in Belfast docks, Samson and Goliath.
They had to be moved along their tracks to the city end of the building dock for the duration of the refurbishment contract.
David McVeigh from Harland and Wolff said: "Apart from being able to exceed stringent health and safety element requirements for such contracts, H&W is also capable of great flexibility which means we can put 600 contractors from electrical, welding, engineering and painting disciplines in place in a short time."
Aberdeen-based Dolphin Drilling Ltd awarded Harland and Wolff the contract for the dry docking of the Blackford Dolphin.
The Norwegian-built oil rig costs approximately $500,000 (£335,000) a day to hire for drilling projects.