Rupert Murdoch and Wendi Deng agree divorce settlement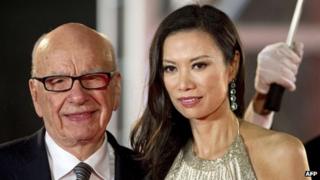 News Corp boss Rupert Murdoch and his wife Wendi Deng have reached an "amicable" divorce settlement to end their 14-year marriage.
The estranged couple told a New York court they would move forward with "mutual respect" and a shared interest in their daughters' welfare.
The details of the settlement have not been disclosed publicly.
The 82-year-old filed for divorce from Ms Deng in June saying his marriage had "irretrievably broken down".
The couple have a pre-nuptial agreement and are holding shares in trust for their children.
They have two school-age daughters together, Grace and Chloe.
Famous slap
Ms Deng, 44, is 38 years younger than the Australian-born media mogul, who is said by Forbes to be worth $9.4bn (£6bn).
Mr Murdoch met his Chinese-born wife in 1997 at a cocktail party in Hong Kong. They were married two years later, weeks after his second divorce.
In 2011, Ms Deng famously leapt to her husband's defence to slap a protester who threw a pie at him as British MPs quizzed him over a phone-hacking scandal that led him to close one of the titles, the News of the World.
Mr Murdoch's global media portfolio includes the Wall Street Journal, Times Newspaper Ltd, as well as television channels such as Fox News and Sky, and the 20th Century Fox movie studio.
He filed for divorce just days before News Corp was split into two companies, one for its entertainment assets and the other for its publishing business. Mr Murdoch is chairman of both firms.