Cambridge's Internet Watch Foundation leads child abuse clean up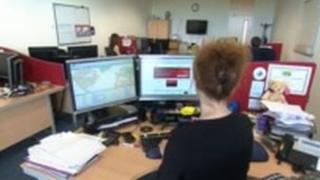 An organisation in Cambridge which tracks down and removes images of child abuse from the internet is to almost treble in size.
The announcement was made by the Internet Watch Foundation, as it received another £1.5m from the industry, following the government's second cyber summit in Downing Street.
Prime Minister David Cameron praised leading internet companies for announcing changes after Google and Microsoft agreed to make it harder to find child abuse images online.
The Internet Watch Foundation receives 40,000 complaints a year about websites showing pictures of alleged child abuse.
Staff in an office in one of Cambridge's research parks analyse images from the world wide web. The content is so graphic that staff have to have regular counselling.
"I do see horrific things on a day-to-day basis. It can be disheartening to know how much content there is out there. I've got two choices, I can either be part of the solution to get rid of that content or I can pretend it's not there - and I know it's there and I want to help," says Sally, which is not her real name.
The reports come from members of the public and the police. If they find a UK website hosting illegal images it can be closed down within the hour. Unfortunately, if it's overseas, getting the image removed will take much longer, although it can be blocked it in this country,
Global problem
Internet Watch Foundation Chief Executive Susie Hargreaves said: "Last year we removed just under 10,000 URLs of which only 35 were hosted by the UK. That shows you that the problem is elsewhere. If people did what we did there would be nowhere to hide.
"People say to us, 'Surely it's just a drop in the ocean?'. I always say that's no reason not to do anything."
George Freeman, the Conservative MP for Mid Norfolk, is a member of Internet Watch Foundation.
"The technology is moving very fast," he said. "We are launching a scheme so that every device in the home can be covered by an opt out.
"In the home you want your family to be safe. How do we deal with the globalisation of content online? My advice is be open with children and have the conversation."
The money will allow IWF to take on seven more analysts which will allow them to actively search out child abuse images rather than waiting for tip-offs.
Search engines Google and Microsoft's Bing are now to block results for 100,000 search terms in 158 different languages, while the social network sites Facebook and Twitter are facing calls to do more to crackdown on abuse.
It comes just months after the prime minister warned companies to take action or face tough new laws. Extending the work undertaken by Cambridge's Internet Watch Foundation will help improve its impact on the "dark web".