Can Sky bounce back from BT defeat?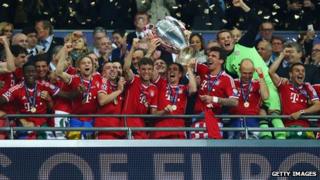 What is really striking about UEFA's auction of Champions League and Europa League television rights is that there was only one round of bidding.
What does that mean?
Well that BT's £900m bid was miles above that of British Sky Broadcasting and ITV.
So has BT paid too much? Or did BSkyB break the habits of its entire existence and foolishly bid too little?
Well, the newish chief executive of BT, Gavin Patterson, told me that his company's financial model of what the broadcast rights are worth would have allowed him to bid more (though not much more).
Meanwhile, a senior BSkyB source said that his company simply could not justify shelling out the £300m per year offered by BT.
Are these two conflicting statements reconcilable, or is one of them trying to sell me a pup?
The answer is that there is probably a bit of both going on.
The rights are worth more to BT than to BSkyB, because of its perception that being able to offer sport broadcasts can differentiate its broadband service from those of the big challengers - Virgin, TalkTalk as well as Sky - and fulfil Patterson's ambition of reversing years of declining revenues at BT.
Meanwhile, the thrust of all recent investment at BSkyB under Jeremy Darroch is to make its television service about much more than sport.
Or to put it another way, Darroch believes there are more rewarding ways for his company to deploy £300m a year of cash.
So for example BSkyB is already spending more than £500m a year on creating what it calls "original British programmes" - series such as the Tunnel, Dracula and Strike Back - with the published aim of increasing that to £600m by 2015.
'Retaliation'
I am told that having lost European football, BSkyB is likely to spend even more on drama - which, to state the obvious, will increase BSkyB's competitive threat to ITV and to my employer.
BSkyB also points out that European football represents only around 3% of viewing on its channels, compared with around 18% for the Premier League.
So the harm to BSkyB of losing the contest is certainly not lethal.
But it does not mean that the defeat is trivial.
First of all there is the difficult-to-quantify dent in how customers, investors and employees see a a business like BSkyB when its 100% winning record in a particular activity ends: BSkyB has never lost a sports auction quite as important as this one.
Second there are risks for BSkyB in trying to become a genuinely "broad" broadcaster. Creating compelling drama and side-splitting comedies that people actually want to watch is harder than luring sports fans to football, cricket or golf.
Third, and most important, the battle for supremacy in the broadband market just got vicious.
BT is number one in broadband; BSkyB wants to be number one and just got kicked in its most sensitive organ.
The history of BSkyB says it will not writhe around on the park in agony, and will take little time trying to find an effective way to retaliate.
The battle between BT and BSkyB just became very interesting.