Detroit: From American dream to American nightmare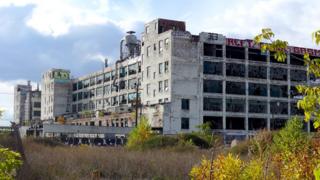 Three months ago, Detroit became the largest city to file for bankruptcy in US history. The trial to determine whether a city of Detroit's size can stop paying its bills will have huge potential repercussions for cities and states across the country.
Perhaps no-one is awaiting the trial's outcome as much as Erma and Gordon MacDonald, who have been married for 63 years.
"I'm smarter than her," jokes Mr MacDonald, 87. "Only a stupid person would agree to marry me."
A jester at heart, Mr MacDonald says people always ask him why he laughs so much.
Mrs MacDonald, 82, has an easy answer: "It's so we don't cry."
In their tiny one-bedroom flat decorated with photos of their children and grandchildren, the MacDonalds grow silent.
They contemplate a future in which the pension that Mr MacDonald earned over 39 years with the Detroit Police disappears - a potential casualty of Detroit's bankruptcy filing.
"I don't know what else to say - we're up in the air," Mr MacDonald says. He worries more about his wife, who is in poor health, than about himself.
"I take 15 prescriptions," says Mrs MacDonald, "and I kind of jokingly said if they take [my healthcare] away, which pills do I stop without dying?"
'American nightmare'
While it might seem unfathomable that the MacDonalds could face such a choice, the reality is that if Detroit's bankruptcy filing is allowed to proceed, the city will face extremely difficult decisions.
Kevyn Orr, the emergency manager brought in to run the city by the state of Michigan, argues there is no way forward for Detroit other than through the fresh financial start that bankruptcy brings.
The city is anywhere from $18bn (£11bn) to $20bn in debt - with $9bn a result of ballooning pension and healthcare costs.
It has already cut basic services to the bone, pushing more residents to flee. The city's population now stands at 700,000, down from two million at Detroit's peak.
Wait times for emergency calls now top one hour, and less than a third of the streetlights function.
More than 80,000 properties have been abandoned. Nature, it seems, moves faster than federal court.
Despite all the hardship, those representing the city's pension schemes say a bankruptcy filing would allow the city to renege on promises made long ago.
They dispute Mr Orr's calculations, and say it's unfair that the 23,500 retirees who spent their lives working to keep Detroit safe and clean could be left with nothing.
"They're taking away the American dream and turning it into the American nightmare," says Donald Hall, who spent 29 years as a detention centre officer and now depends on the $850 he receives from the city every month.
All eyes on Detroit
There's no question that Detroit is unique among US cities, to fly so high and fall so far, to build landmarks like the majestic Michigan Central Station that less than a hundred years later have the aura of Roman ruins.
So then what impact, if any, could a successful bankruptcy filing have on other cities?
"On the one hand, Detroit is in an unusual position because it has had massive depopulation coupled with a collapse of the industrial sector," says University of Michigan law professor John Pottow, an expert in bankruptcy law.
"On the other hand, Detroit was not alone in making legal commitments to people which it had no funding for."
According to a study by economists at Northwestern University, cities and counties across the US have a total of $574bn in unfunded pension obligations.
Already, cities such as Providence, Rhode Island, and San Diego, California, have shown signs they are crumbling under the weight of the financial promises made to retirees.
"If Detroit is able to file for bankruptcy, then every other big city is going to be watching this," says Prof Pottow.
Can it be fixed?
James Canty is a lifelong Detroit resident and manager of the city's parking department. I followed him on his daily rounds as he tried to rid the city of some of the thousands of abandoned cars that line its streets.
The job was once done by the police. Now, Mr Canty's team has taken on the role of enforcer in an attempt to free up overworked officers.
In neighbourhoods where it's hard to tell which, if any, of the houses are occupied, Mr Canty points to a white Chevrolet sedan with shattered windows here, a pick-up truck missing a wheel there.
Frequently, as soon as a tow truck arrives to remove the offending vehicle, the vehicle's owner suddenly appears, as if by magic.
The excuses are often similar - what looks like a derelict car is in fact in the process of being mended.
It's not hard to see Detroit's financial position in the same way as these dented and decrepit cars - they may or may not be broken, depending on who is looking at them.
Is it better to clear the way for something new - or to be forced to fix what only appears beyond repair?