Cory Booker wins Senate seat in New Jersey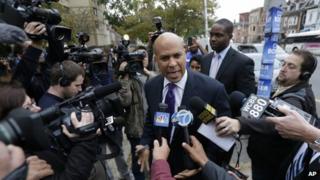 Newark Mayor Cory Booker has won a special election to represent New Jersey in the US Senate.
Mr Booker, 44, defeated Republican Steve Lonegan in a race to replace Senator Frank Lautenberg, a Democrat who died in June.
With almost all of the vote counted, Mr Booker led Mr Lonegan by 55% to 44%.
The Democratic mayor of New Jersey's largest city will become the second black senator in the current Congress and the first from New Jersey.
On Thursday, Mr Booker acknowledged the Senate's low approval ratings in the wake of the highly partisan government shutdown and debt ceiling debate.
But, he told MSNBC television's Morning Joe he was a "scrapper" who looked forward to tackling tough issues.
"I'm hoping to join with a lot of good people from both sides of the aisle," he said.
Star backing
Considered a conservative activist, Steve Lonegan, 57, is a former mayor in Bogota, New Jersey, and the former New Jersey state director of Americans for Prosperity - a group funded by the billionaire Koch brothers, which advocates a limited role for government.
Mr Booker has been mayor of Newark since 2006, when he came to power promising to turn round a city suffering from high unemployment, public corruption and rampant crime.
Widely billed as a rising star in the Democratic Party, Mr Booker is a progressive on social issues, supporting same-sex marriage, healthcare reform and gun control.
Both candidates sought to boost their campaigns with the backing of celebrities.
While Mr Lonegan received the support of the former Republican vice-presidential candidate Sarah Palin, Cory Booker won the endorsement of US talk show host Oprah Winfrey.
Mr Booker will serve the remaining 15 months of the late Mr Lautenberg's term and will have to run for re-election in November 2014.
When he arrives in the Senate, replacing Republican appointee Jeff Chiesa, the Democrats will increase their control of the upper chamber to 55-45.