Four 'illegal migrants' die as boat capsizes off Miami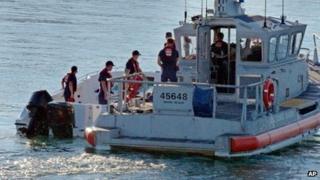 Four suspected illegal migrants died and 11 others were rescued after a boat capsized in waters 11km (7 miles) off Miami, the US Coastguard says.
Coast Guard crews found the survivors clinging to the hull of their vessel, after responding to a distress call.
Most of those rescued were reported to be Haitian and Jamaican nationals.
One survivor was evacuated for medical attention, while the others were taken into custody on suspicion that they were part of a trafficking operation.
The Coast Guard says it does not believe there are any other survivors, and has suspended its search in waters off Miami.
Distress call
Coast Guard crew members said they found the survivors clinging to the hull of a white vessel after getting a distress call at about 01:00 local time (05:00 GMT) from a 911 emergency dispatch centre in Miami.
"One of the people on board the boat made the call," petty officer Sabrina Laberdesque told the BBC.
Eleven people were found clinging to the hull of the white power boat, the console of which was missing.
"Ten of them are in Coast Guard custody", on board a vessel off South Florida, said PO Laberdesque.
One of the survivors was taken by boat to Miami Beach for treatment.
It is common for illegal migrants from Caribbean countries such as Haiti and Cuba to take to unseaworthy vessels to make the dangerous voyage to the Florida coast, in order to enter the United States.
"People take to the sea all the time," said PO Laberdesque, adding that the Coast Guard had picked up 1,357 Cubans and 508 Haitians at sea in the year up to 30 September.