Are you a sports super fan?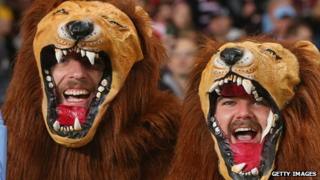 Are you a sports super fan? Or do you know someone who is?
We're trying to track down the greatest sports fans in the world - supporters who put sport ahead of, well, everything!
How far are you prepared to go to show your passion for a particular team? Do you dress up or ornament your body in bizarre, exotic or wild ways?
If so - get in touch. Do you spend all your money on following a specific team or player? Are you passionate about a sport which few other people follow?
Has your love of sport involved great sacrifices involving your job or even your relationships?
Send in your pictures or tell us your stories. It's not a competition and there's no prize - just a chance to have some fun and share your passion with others and revel in the joy of sport.